TOTAL server install guide

This document explains how to install TOTAL on your network.

Document 6009 | Last updated: 10/23/2020 SPB
When you have multiple computers in your office, using TOTAL on a server centralizes your data, program updates, and administration.
The instructions below walk you through the process of installing TOTAL on a server. If you've already installed TOTAL on your server and you need to set up a workstation,

click here

to jump to those instructions below. If you need to install TOTAL on a standalone computer (not as a server or workstation),

click here

.
Changing servers?
If you already had a network running TOTAL, but recently acquired a new server PC, this guide applies to you as well.
Before we begin
There are three things to note before starting your installation:
You need to have a network in place prior to installing the server or workstation version of TOTAL. Our technicians are unable to assist with this, so please give your local technician a copy of this guide.
The date and time on all computers must be configured correctly.
If you already have TOTAL installed as a stand‑alone, it needs to be uninstalled before you can install the server or workstation version. Click here for instructions on how to convert TOTAL from a stand‑alone to a server or workstation installation.
If you're ready to get started, choose a section below.
Minimum server requirements | Installing TOTAL on the server
Setting up workstations | Using a laptop | Additional resources
---
Minimum server requirements
Licensing
To install TOTAL on a server, you must have a TOTAL Server License. Visit http://myalamode.com to check if you have a server license. Or, visit http://TOTALStore.alamode.com to purchase one today.
Operating System

Desktop: Windows 8.1 and Windows 10

Server: Windows Server 2011, 2012, 2012R2, 2016, and 2019

Processor (CPU)

Intel: 64‑bit 3rd Generation Core‑i3 or better
(e.g. Intel Core i3‑3210 3.20 GHz)

AMD: 64‑bit A8 APU or better
(e.g. AMD A8‑6410 2.00 GHz)

Are you using your server as a workstation, too? If so, you'll want a more powerful processor than what is listed above. Consider going with a 3rd generation Intel Core‑i5 or AMD FX‑6300 instead.

Memory (RAM)

Minimum: 8 GB of RAM

Recommended: 16 GB or more of DDR4 RAM

Disk space

Minimum: 16 GB for TOTAL; 10 MB per report stored

Recommended: 500 GB or greater

Disk speed

Minimum: 7,200 RPM

Recommended: SSD or 10,000 RPM drive

Network card

Minimum: 10/100 Mbps

Recommended: 10/100/1000 Mbps

Wireless Network Connections are not recommended. Instead, we recommend using a hardwire connection between your server and workstation(s).

Internet
High-speed Internet access (DSL, Cable, or Fiber)

Having a steady Internet connection is required for many functions of our software. This includes — but isn't limited to — report delivery, syncing TOTAL for Mobile, and downloading maps.
---
Installing TOTAL on server
TOTAL should not be installed on the following:

If you're planning on using any of the above, your installation won't be supported by a la mode, and you may need the assistance of a local technician.
Before you begin:
Make sure you're installing TOTAL on the computer you plan to use as your server.
If you're using a Windows Server OS, take extra care when implementing your network permissions. Windows can block your network users from accessing vital files in the TOTAL folder.
To begin your server install:
Click the button below to begin the download.
After you've clicked the button above, choose the browser you're using from the tabs below and continue with the instructions.

After you've clicked the Install TOTAL button above, press Ctrl + J on your keyboard and double‑click TOTALSetup.exe.

Now, simply continue with the rest of the instructions below.

After you've clicked the Install TOTAL button above, click Save File when prompted.

Now, press Ctrl + J on your keyboard and double-click TOTALSetup.exe.

Finally, click OK when the Open Executable File window appears.

After you've clicked OK, simply continue with the rest of the instructions below.

To begin the install process, simply click Run.

Then, continue with the rest of the instructions below.

To begin the install process, simply click Run.

Then, continue with the rest of the instructions below.

When the installer appears, choose how to register TOTAL:

Existing WinTOTAL Aurora user (Recommended)

Choose this option to register TOTAL using the existing WinTOTAL Aurora registration information on your computer. WinTOTAL must be installed and registered on the same machine where you're installing TOTAL in order to use this option. If a valid WinTOTAL registration isn't detected on your PC, only the a la mode login and Activation Code options are displayed

a la mode login

Choose this option to enter the a la mode Username and Password associated with your account. If you're not sure what it is, or if you've forgotten it, click the Forgot Password link to reset it and we'll send a new one to the e‑mail address associated with your account.

Activation code

Choose this option to enter your Customer Number and Authorization Code in the provided fields. You can get your Customer Number and Activation Code from the downloads section of My Account, your order invoice, or by looking in your welcome e‑mail.

Once you've chosen your registration method and entered any necessary information (if applicable), click Next.

Next, choose whether you want to install TOTAL as a stand‑alone installation, as a Server installation, or as a Workstation installation. Since this document covers installing TOTAL on a server, choose Server installation and click Next.

When you're prompted to agree to the License Agreement, read through the agreement, check the box to accept, and click Next.

Now, choose where to install TOTAL and where to save shared images, reports, and sketches. We recommend using the default installation directories.

If you choose to install TOTAL to a different location, we may not be able to assist you as easily if something goes wrong.

Lastly, review and confirm your installation options. You're also shown any prerequisites that will be installed prior to TOTAL itself. When you're ready, click Install to install TOTAL and any other necessary software.

In rare instances, the utility hangs while installing the

Install_​SQL_​engine_​core_​inst_​CPU32_​Action

component.

Click here

to resolve this issue.
Once TOTAL has finished installing, check the box to Launch TOTAL and click Finish.
If you have a previous version of WinTOTAL on your computer and you want to transfer your settings from Aurora, check the box next to Launch Aurora Transition Assistant prior to clicking Finish. This launches the Aurora Transition Assistant.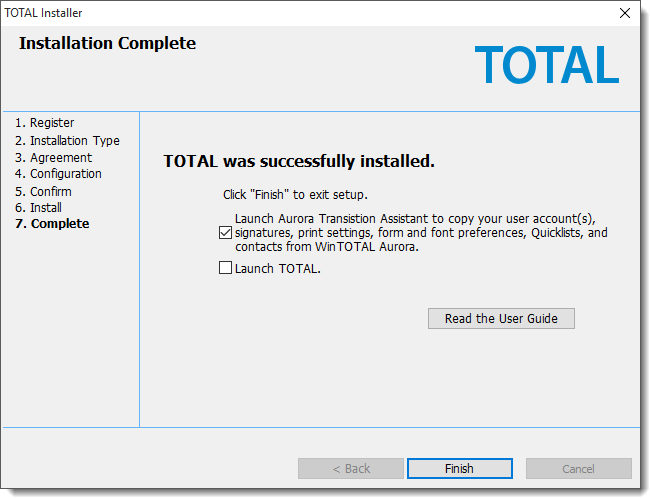 Once TOTAL is installed on your server, you're ready to set up your workstations.
A note for Aurora users: While the installation of TOTAL is an upgrade from WinTOTAL Aurora, TOTAL doesn't replace Aurora. It is installed alongside your existing copy of Aurora, and doesn't interfere with it.
---
Setting up workstations
If your PC previously had a stand‑alone installation of TOTAL, and you're converting it to a workstation, TOTAL must be uninstalled completely before you attempt the steps below.
If you just installed a new server, simply follow the steps below to redirect your workstations. Be sure to navigate to the program directory located on the new server machine.
From the workstation, browse to the TOTAL program directory on the server. By default, the network path to the TOTAL program directory is \\YOURSERVERNAME\TOTAL Program Share
From here, run WinTOTAL.exe. SafeStart installs all of the necessary files for the workstation to use TOTAL, including TOTAL Connect, TOTAL Sketch, and TOTAL for Mobile sync.

Repeat this process on all of your workstations.
Do not use the same installation file (TOTALSetup.exe) that was downloaded to your server to install TOTAL on your workstations. Doing so installs TOTAL as a stand‑alone version, and it must be completely removed from the workstation if you intend for it to be part of your network.
---
Using a laptop
You shouldn't install a workstation version of TOTAL on a laptop. If you do, then anytime the laptop is disconnected from the network, TOTAL won't be able to run. Instead, a laptop needs a stand‑alone installation. It won't sync with your network automatically like a workstation does, but you can move reports back and forth manually, either by using Titan Drive or an external storage device like a flash drive or attached directory.
For a stand‑alone installation guide, click here. To learn more about Titan Drive, click here.
As the licensed user, you can install TOTAL on a laptop or other machine off the network for your personal use. If you have other users who need to install the software on a machine off the network, please call 1‑800‑ALAMODE for options on additional licensing.
If you own Titan Drive, you can use it to quickly pull reports down to your laptop. Simply upload the appraisals you want to work on to Titan Drive from your networked desktop, then download them on your laptop. Click here for instructions on sending reports to Titan Drive, or click here for instructions on downloading files from Titan Drive.
If you don't own Titan Drive, the quickest way to move files to your laptop is with a USB flash drive. Here's how:
With your flash drive plugged in to a workstation (or the server), open TOTAL's Appraisal Desktop and locate the report you are moving to the laptop.
Now, right-click the report and choose Move or Copy from the menu that appears.

Near the top of the window that appears, choose Move, select the flash drive that you plugged in during step #1, and click OK.

It is important that you Move the files off of the server rather than Copy them. This ensures that users on your network don't modify the same reports while you're working on them on the laptop. If that happens, you stand the chance of losing the changes made on one side or the other.
That's it! The report(s) are now on your flash drive and you're ready to move them to your laptop. To move the reports to TOTAL on your laptop, simply follow the same basic steps as above — plug in your flash drive, open TOTAL, then move the reports from the flash drive to TOTAL's "My Reports" or "Shared Reports" folder.
---
Additional resources