Creating an AI Ready Report:
To produce AI Ready appraisals, you essentially perform your appraisal process like you normally do, but you use specific, AI Ready approved forms, fill out specific information on your invoice so that it can be converted, and follow a specific workflow when working with photos and photo pages. Then, when you're ready to convert and deliver your report, you use one of the TOTAL Connect Pro plugins available with your TOTAL Connect Pro membership. TOTAL Connect Pro partners include AppraisalPort, CoreLogic Valuations, and more. Click here to learn more about a TOTAL Connect Pro membership.
When producing an AI Ready appraisal, you're really converting your report into an

.ENV

or

Enhanced .ENV

file. Enhanced .ENV files are simply .ENV files generated from a report containing one of the four UAD forms that produces a MISMO 2.6 GSE XML (

click here

to view which forms create a MISMO 2.6 GSE XML). Remember, if you're asked to upload an Enhanced .ENV file, simply respond that your .ENV file includes the necessary information.
---
Choosing forms:
For the most part, AI Ready uses all the same forms you would normally use in an appraisal report, but there are some forms specific to WinTOTAL that are incompatible by the AI Ready format. Our delivery plug-in tells you at the time of delivery if a form can't be converted, but to be on the safe side, we created a group of forms in the TOTAL/WinTOTAL Contents view specifically for AI Ready forms, so you know that if you choose a form from this category, it converts properly to AI Ready.
AI Ready Forms in WinTOTAL: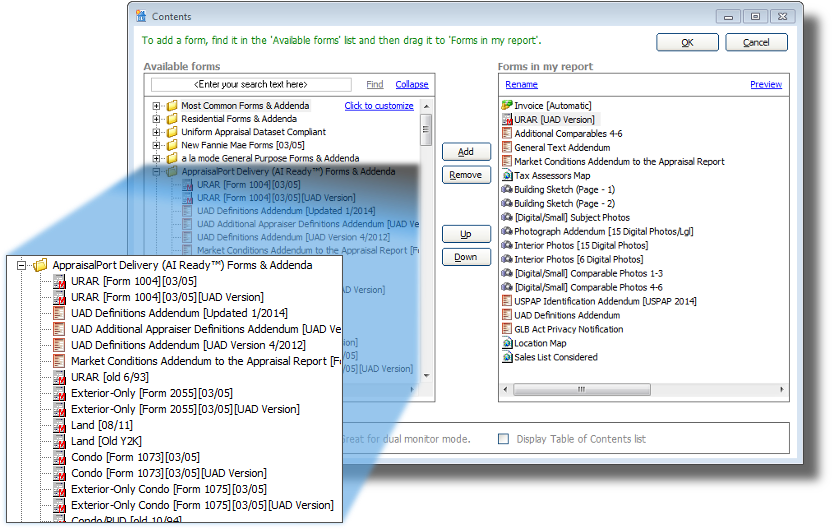 AI Ready Forms in TOTAL:
FNC limits the number of some form types sent to clients through AppraisalPort. Often it's not a problem, but keep in mind that you are limited to:
20 pages of text addenda — All addenda gets concatenated into a multi-page form with a heading of "Text Addendum". Any custom headings are inserted into the body and all text formatting (fonts, bold, etc) is removed.
2 plat maps
2 location maps
5 sketch pages
50 additional maps (all scanned and PDF addenda are shown as "maps")
12 comparables (3 Additional Comparable pages)
9 listings (3 Additional Listings pages)
---
Working with photos:
Remember that AppraisalPort doesn't send the actual image pages, just the images. So, you'll want to use the standard 3 image subject and 3 image comparable photo pages. As with the forms, FNC also limits the number and type of photos to:
6 subject photos (front, rear, street, 3 additional)
12 comparable photos (Only 1 image per comparable is accepted. If you wish to include an additional photo for a comp, use a Photograph Addendum.)
9 listing photos
99 additional photos
Here are some other items to consider when it comes to photos:
AppraisalPort supports only JPG formats for images, including your digital signature.
For standard subject and photo pages, custom titles next to the photos and custom headings are not supported and could result in the page being omitted from the resulting AI Ready file, so just leave those as the defaults.
Only the first line under the photo title is able to be transferred.
While images on the miscellaneous photo pages in TOTAL/Aurora labeled "Photograph Addenda" are transferred to the AI Ready file, custom text and descriptions are not transferred.
Photos that are inserted within the text addendum will not convert to ENV.
If you notice a particular photo page in your report not converting, try removing the photo page and then adding it back it in. This can clear up problems where the photos weren't associated with a property correctly, or if there were inadvertent customizations in the data or labels preventing conversion.
In a report with more than 12 comps, create a pdf for comp photos 13+ and import the pdf into your report.
PDFs imported into your reports through the Add Page function in Aurora or the Insert function in TOTAL convert to AI Ready just fine. However, their conversion process treats them as additional "map" pages, so that is how they show up regardless of the page title you enter in TOTAL or Aurora.
---
Including an invoice:
While you may have an invoice in your report, only the data from it is transferred over during conversion, and it's displayed on the AI Ready invoice form. Be sure to include an invoice number and at least one line item with an amount. If you see that your invoice is showing as "incompatible," check that you are using a FNC-compatible invoice form and that all relevant data is included.
Currrently, there are 8 invoice forms compatible with FNC:
NIV1
NIV2
NIV3
NIV4
NIV5
NIV5 SIG
NIV5D
NIV6
Look for the form designation at the bottom of your invoice to verify that you're using the correct form.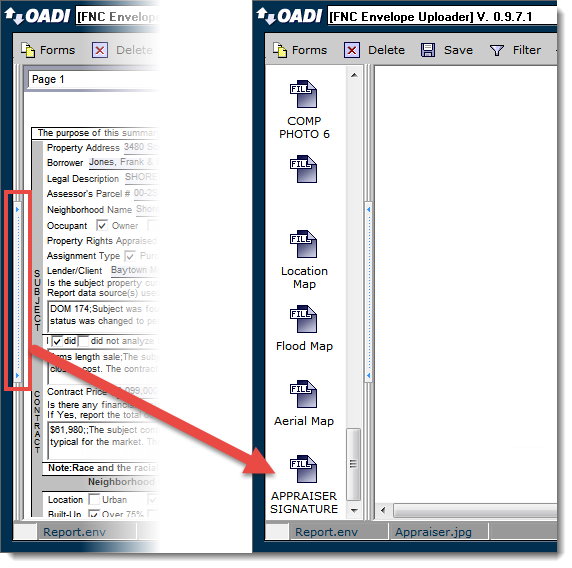 Remember, do not include a logo on your invoice because it is simply converted as another miscellaneous image.
TOTAL Connect:
Delivery through plugins is accomplished by using TOTAL Connect, which you install separately. Click here for instructions on installing TOTAL Connect.
The complete guide for the AppraisalPort plug-in is available here, but in this document you'll find quick information about the most common tasks associated with creating an .ENV file.
---
Starting the delivery process:
When you're ready to deliver your report, make sure the report is signed and saved. Then, click Deliver to Client and hover over Deliver with TOTAL Connect.
If you're delivering your report to AppraisalPort or saving an .ENV file to upload to your client's website, select the AppraisalPort plugin. If you're delivering your report to a different client, select that client's plugin from the list. If you're delivering your report to AppraisalPort, click here for detailed delivery instructions. Otherwise, click here and choose your client from the list of plugin partners for detailed instructions.
The FNC/OADI viewer is a separate application produced by FNC. It's the tool that actually lets you view what you're about to send and upload it to the client. In some cases, you use the OADI viewer to save the .ENV file separately and upload it manually to a client's website, or deliver the .ENV file to your client via e‑mail. We recommend looking at each page generated for your appraisal before uploading.

---
Username, Password and the AppraisalPort upload URL
The first time you upload a file to AppraisalPort, you're required to enter your AppraisalPort Username and Password, which is the same login information you use to log in to the AppraisalPort website. You are also required to enter the AppraisalPort Upload URL.
Click Reset URL to Default to enter the URL automatically:
Or, enter it manually: https://www.appraisalport.com/xport/oadi/receive_env.aspx
Even though the FNC/OADI Viewer installs with our products, FNC is responsible for support once your file is in it. Please contact FNC if you need to find out your Username and Password, or for assistance with configuring the FNC/OADI Viewer. You can contact FNC directly at 888‑963‑3330.
---
Saving .ENV files using the OADI Viewer:
With the OADI Viewer open, click the Save button near the upper-left of the window. You're prompted to choose a location to save the file, so be sure to choose a location you'll easily remember.
---
Viewing the report after it is converted to .ENV:
There are two options for viewing a report after it is converted to the .ENV format. You can use the built-in PDF converter within the OADI Viewer if you have an AppraisalPort account, or you can use the Conversion tool on the AI Ready website, where you can browse for your file and upload it for viewing. Click here to learn more about these options.
Some of my forms are missing:
During the final step of AI Ready delivery, the OADI Viewer is intended to display the report exactly as it will be delivered. In some cases, you might not see some of your forms — such as the UAD Definitions or the Invoice. Fortunately, this is easy to fix, because the forms are already in the report that is being delivered — you just have to know how to view them.
First, the most reliable way to make sure that the delivered report appears exactly as it should is to click the PDF button in the OADI Viewer. This displays a PDF of the report as it appears after the AI Ready conversion. This is the same version of the report that your client receives.
Within the OADI Viewer, there are two ways to view the various parts of your report: the Forms button, and the Page drop‑down menu.

Click Forms to view the separate forms in your report, including the major form, invoices, and certain addenda.
Once you've selected the form you want to view, use the Page drop‑down menu to select the report pages you want to see. The OADI Viewer displays one page at a time, so instead of simply scrolling through the entire report as you might expect, you'll need to select the page you want to view using the Page drop‑down menu — then you can scroll down the page you selected to view.
---
My invoice didn't convert:
If you tried using the Forms button in the OADI Viewer to view your invoice, but find it isn't there, the most likely causes are that either you used an incompatible invoice or there's a lack of required information on the invoice in your report. There are eight invoice forms that are compatible with FNC:
NIV1
NIV2
NIV3
NIV4
NIV5
NIV5 SIG
NIV5D
NIV6
Additionally, your invoice must contain the following information:
Invoice number
One line item with an amount
If you aren't using one of those invoices or your invoice doesn't include that info, it won't be included when the report is converted to AI Ready format. To fix this problem, exit the OADI Viewer, cancel the delivery wizard, and return to your report to make sure you are using the correct invoice and that the minimum information is included on the invoice. Once you're using the right invoice and you've entered the required information, start the delivery process again just as you did before.
Alternatively, you can also create a new AI Ready invoice from scratch by clicking the Invoice button at the top of the OADI Viewer and selecting New.
---
Images are missing or display a red X:
When viewing the photo pages in your report, you might see a red X indicating that the photo is missing. In the majority of cases, the photo is actually there, but you can't see it because the OADI Viewer relies on your PC's Internet cache to display them.
The root of the problem varies, but the solutions is often the same: clear your temporary Internet files. Click here for complete instructions.