Migrating TOTAL to a new PC using the Move Tool

This document shows you how to use the Move Utility to put TOTAL on a new computer.

Document 6510 | Last updated: 04/05/2022 MJY
Our Move Utility is designed to help you move all of your TOTAL data from one machine to another. Your data remains unchanged on your old computer, and there's no need to manually dig for files.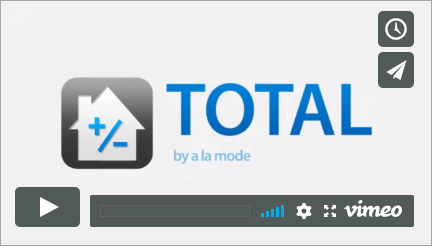 This guide does NOT apply if you need to move from a stand-alone to a server/workstation or vice versa.

Click here

to convert from a stand-alone to a server/workstation.

Click here

to convert from a server/workstation to stand-alone.
Before you begin:
TOTAL must be installed on the new machine and both machines must be on the most recent update before transferring your data. Click here for instructions on installing TOTAL on a standalone computer. Or, click here for instructions if you're installing on a network.
You must have a removable device with enough storage to hold all your reports and preferences. Complete steps 1‑7 to confirm space needed and space available on device.
Reports in an attached directory or in the Aurora Reports folder in TOTAL's Appraisal Desktop must be moved to either My Reports or Shared Reports. Click here for instructions.
If you are moving TOTAL to a new server, uninstall TOTAL from any workstations on the network. Then, install TOTAL on your new server, and reinstall TOTAL on each workstation from the new server.
---
Part 1 — Back Up Your Data
Connect your removable device to the old PC.
Press Windows key + R.

In the Open: field, type %tsa6% and click OK.

Go to the Additional Tools tab, and double–click 18. Move to a new PC on the left.

In the Move TOTAL window, select Back up my old PC.

Click Browse, locate and select your removable device, and click OK.

Note the space available on your device and the space needed to transfer your data. If the available space on your removable device is less than the space needed, you'll need to use a storage device with a larger capacity. Otherwise, click Start.

Depending on how many photos and reports are being backed up, this process takes anywhere from a few minutes to a few hours to complete. If your transfer utility looks "stuck" or says "Not Responding" when it's copying your reports or photos, simply continue to let it run. Rest assured, even if the progress bar appears stalled, your files are actively being copied!

When it's finished, click Close.
Now, move to your new machine. To continue, print or email these instructions to yourself, or go to help.alamode.com/6510 on your new machine.
---
Part 2 — Restore Your Data
If the location of your public reports, images, or thumbnails differs from the old computer, or you want to move those items to a new location such as a secondary hard drive, there are a few extra steps to change the location where TOTAL stores and accesses those items.

Click here

for instructions.

Connect your removable device.
Browse to the location of your removable device. Double–click Restore TOTAL Data to launch the restore utility. If the restore utility doesn't launch, reboot your PC and try again.

Allow the restore process to complete. Again, depending on the amount of data being restored, this may take some time. When it's finished, click OK.

Keep in mind: restoring your TOTAL settings from the old PC will overwrite any existing TOTAL settings on the new PC. Existing reports on your new PC are moved to the Deleted Items folder in your Appraisal Desktop, and can be restored from there at any time.
That's it! Open TOTAL on your new PC and pick up exactly where you left off on your old machine.