Upgrading from WinTOTAL Aurora to TOTAL

This document explains how to upgrade from WinTOTAL Aurora to TOTAL with the Aurora Transition Assistant.

Document 6001 | Last updated: 07/14/2021 SPB
If you've been using WinTOTAL Aurora, upgrading to TOTAL is a snap!
Because TOTAL is Aurora's successor, it can read all of your existing reports, your QuickLists, and more — right out of the box. Follow these steps to move your reports, data, contacts, users, QuickLists, and images from Aurora to TOTAL.
If you're moving to a new computer in addition to upgrading from Aurora to TOTAL,

click here

for step‑by‑step instructions on upgrading from WinTOTAL Aurora to TOTAL and moving to a new PC.
---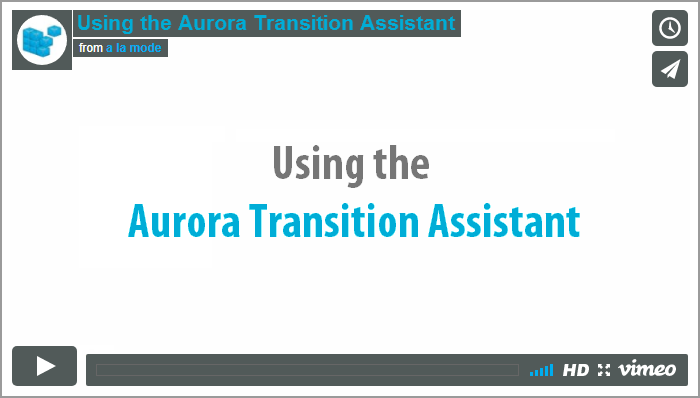 Before you begin, make sure that you have installed TOTAL. If you haven't installed TOTAL yet, click here and follow the steps to get TOTAL up and running. At the end of the installation process, you'll be prompted to run the Aurora Transition Assistant — simply confirm that you want to run through the assistant. Then, return to this document and follow along.
If you launched the Aurora Transition Assistant from TOTAL's installation wizard, or if you already have the Aurora Transition Assistant open,

click here

to jump ahead.
On your keyboard, press the Windows Key + R to launch a Run prompt.

Now, in the Open: field, type %tsa6% and click OK. This launches TOTAL's Tech Support Assistant (TSA).

If the Tech Support Assistant fails to launch, you can also open it from within TOTAL. Simply open TOTAL, click Help on the top menu, and select Tech Support Assistant from the dropdown. Alternatively, reboot your PC and try again.

Once the TSA opens, click the Additional Tools tab at the top, then locate and double‑click #19 Aurora Transition Assistant in the left column.
At this point, the Aurora Transition Assistant opens — guiding you through the process of copying your information over to TOTAL. Click Next to begin.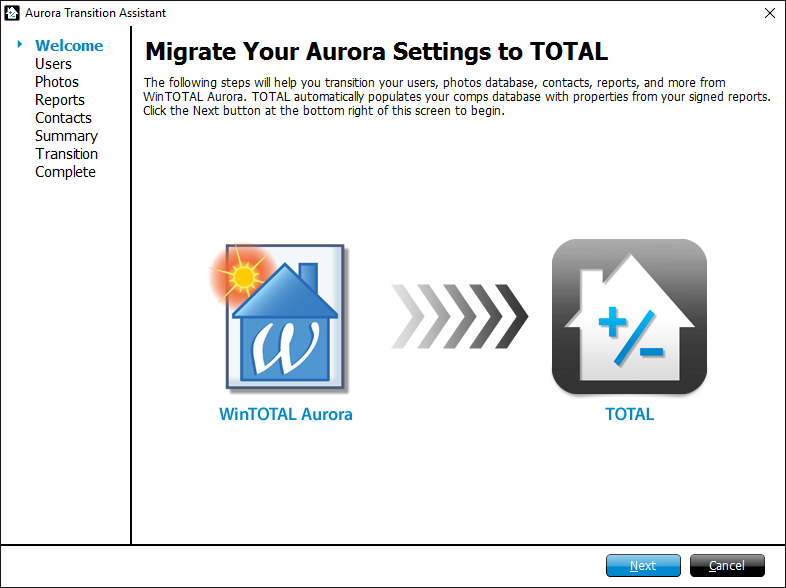 ---
Step 1 — Import Users
Choose which Aurora users to move to TOTAL. Place a check in the box beside each user you want to import. Then, click Next.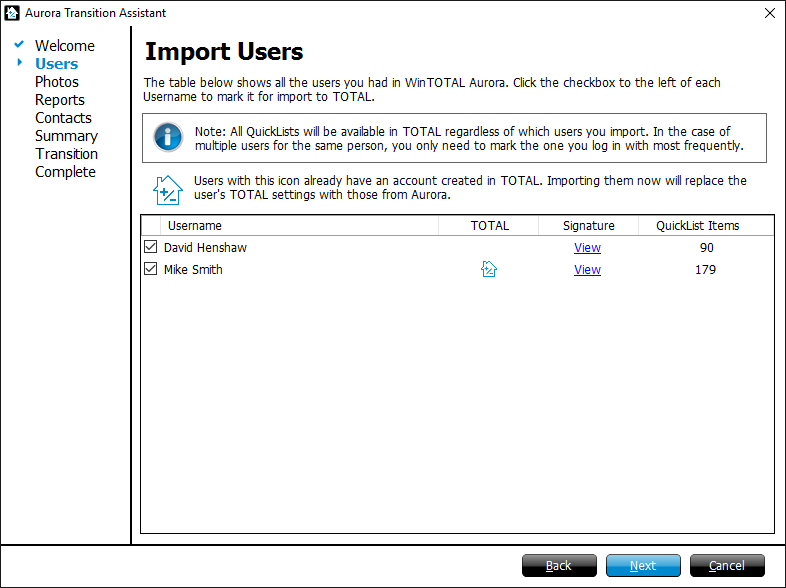 If you're transferring a user from Aurora that already exists in TOTAL, the existing user's settings, signature, and QuickLists are overwritten with the information being transferred from Aurora.
If an Aurora user already exists in TOTAL, a TOTAL icon ( ) appears beside their username in the TOTAL column.
Click the View link in the Signature column to preview the user's signature that will be imported from Aurora.

The number of QuickLists for each user is displayed in the QuickList Items column on the right.
TOTAL requires a password for each user. So, when users are moved from Aurora to TOTAL, a temporary password of

password

is assigned, with a temporary security question of

12345

. We recommend that you

change your password

as soon as possible after using the Aurora Transition Assistant.
---
Step 2 — Link Users with Their Licenses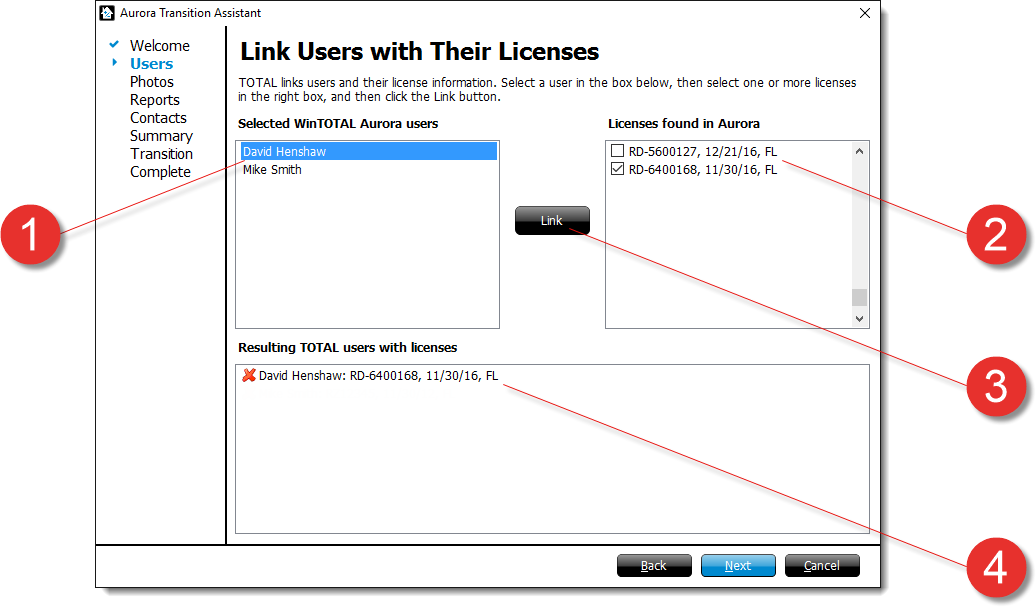 Select a user from the list of WinTOTAL Aurora users on the left.
Select the license you want to associate with that user.
Click Link to link the user and the license.
Once you link a user with a license, the user and license information is displayed in the Resulting TOTAL users with licenses section below. to remove an associated user and license from the list, click the delete icon ( ) on the left.
When you're finished, click Next.
---
Step 3 — Create Photos Database
Choose how you want to create your photos database in TOTAL: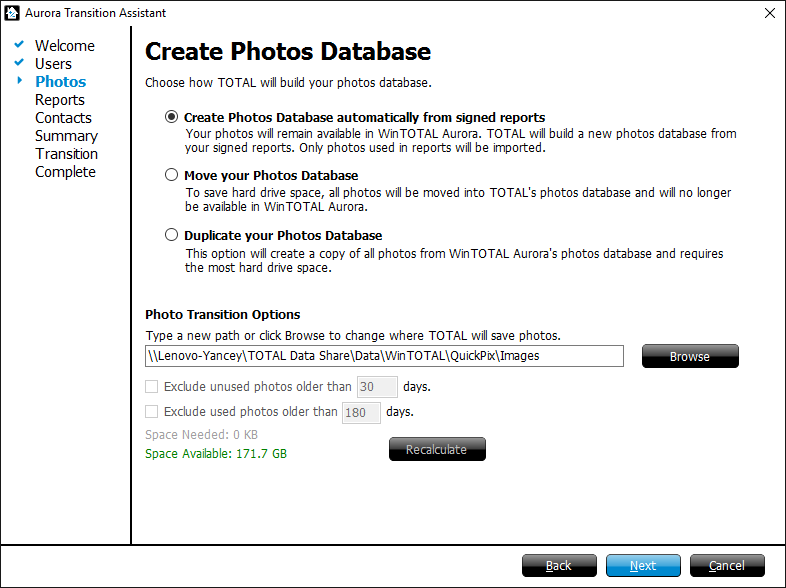 Create Photos Database automatically from signed reports

Choose this option if you want TOTAL to automatically create a new photos database by importing images and any associated data from your signed reports. This leaves WinTOTAL Aurora's photos database in Aurora and creates a new photos database in TOTAL.

Move your Photos Database

Choose this option to completely move the photos database from Aurora to TOTAL. If you choose this option, the photos database will no longer be available if you open a report and try to access the database in Aurora.

Duplicate your Photos Database

Choose this option to make an exact copy of Aurora's photos database. This option allows you to access the photos database in both WinTOTAL and TOTAL. Keep in mind that because the database is duplicated, any changes made to your photos database in WinTOTAL won't be reflected in TOTAL, and vice versa.
It's a good idea to leave the path for your photos database at the default location, but if you prefer to save it in a different location, type the path or click the Browse button to choose a new location in the Photo Transfer Options section.
If you choose to move or duplicate your photos database, additional options are made available that allow you to exclude unused and used photos that are older than a certain number of days. Adjust these options as needed and/or click Next to continue.
---
Step 4 — Move Reports or Leave Them in Aurora
Choose whether you want to move all of your Aurora reports to the Shared Reports folder in TOTAL, or leave your reports in Aurora. If you choose to leave your reports in Aurora, you won't be able to open an Aurora report in TOTAL until you move it to a TOTAL folder. Once you've chosen to move or leave your reports, click Next.
---
Step 5 — Import Contacts
Indicate whether you want to start fresh with your contacts database in TOTAL, or if you want to import your contacts from Aurora. If you're concerned about duplicate contacts, click Launch Aurora's Contact Cleanup to run the contact cleanup wizard prior to importing your contacts. When you're finished, click Next.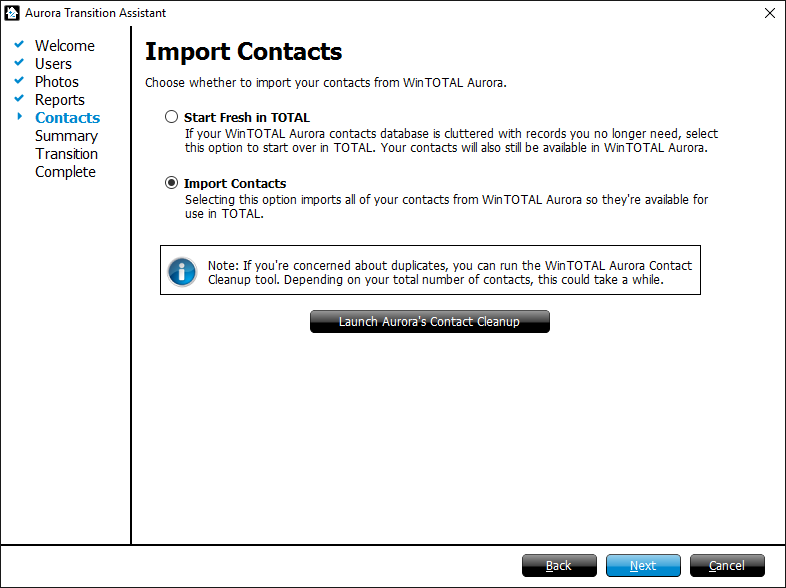 ---
Step 6 — Review and Transition
Review the summary of what will be transferred from Aurora to TOTAL. When you're ready to begin the transition, click Next.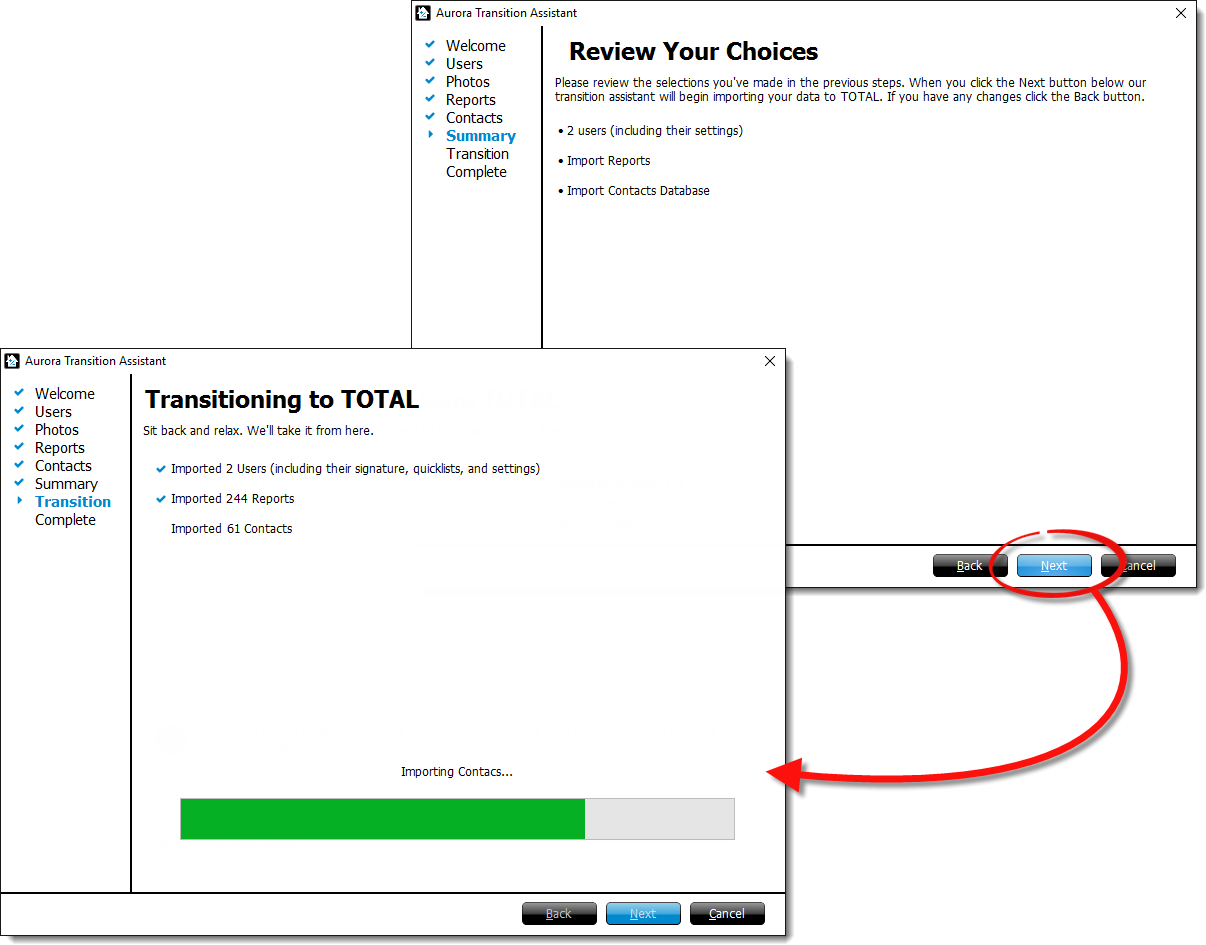 Depending on how many photos and reports are being transferred, this process takes anywhere from a few minutes to a few hours to complete. If your Transition Assistant looks "stuck" when it's moving your reports or photos, simply continue to let it run. Rest assured, even if the progress bar appears stalled, your files are actively moving to their destination!
---
Step 7 — Complete Transition
That's it! The transition to TOTAL is complete. Check the box to view the TOTAL User's Guide to continue reading about all of TOTAL's features and functionality, and/or check the box to launch TOTAL to open the Appraisal Desktop and begin using TOTAL. Then, click Finish.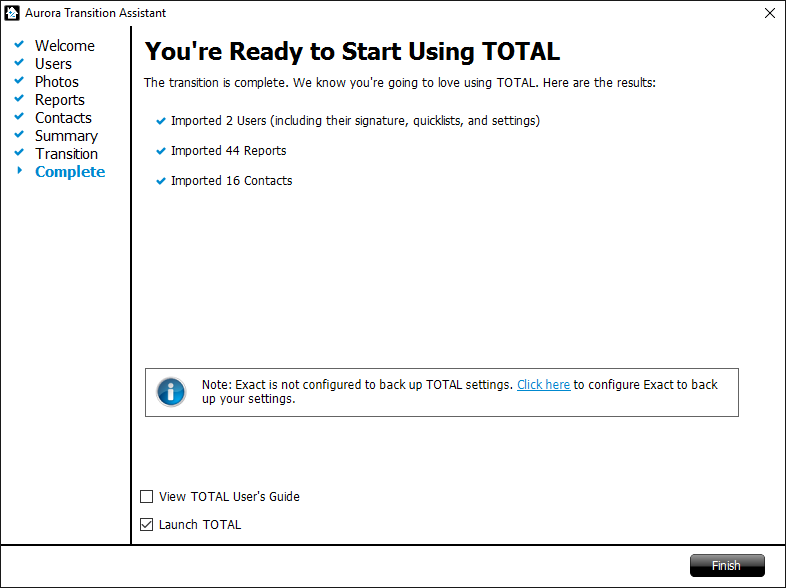 ---
After the Transition — Optimize Your TOTAL Experience
Now that you're ready to begin using TOTAL, there are a few extra steps you can take to help make your experience with TOTAL more enjoyable and productive.