To keep your computer running smoothly, you should reboot regularly, stay current on updates, clean your PC often, and configure your security software to work with the programs you use.
If you're experiencing performance issues, try the following:
---
Clear your Windows temp folder
The temp folder contains files that are only needed on a temporary basis. Windows doesn't always delete these files after their job is done, resulting in wasted drive space. To delete unused files in your temp directory:
Press Windows Key + R to open the Run dialog.

In the Open: field, type (or copy and paste) %tsa6% and click OK.

When the Tech Support Assistant opens, click the Additional Tools tab.
Double‑click 1. Clear temp directory from the column on the right.
When you receive the message that states the temp files have been cleared, click OK and close the Tech Support Assistant.
---
Clear temporary TOTAL files
Similar to the Windows temp folder, TOTAL stores files outside of the temp directory that are only needed on a temporary basis, and these files are sometimes retained longer than they're needed. To clear your temporary TOTAL files:
Press Windows Key + R to open the Run dialog.

In the Open: field, type (or copy and paste) %tsa6% and click OK.

When the Tech Support Assistant opens, click the Additional Tools tab.
Double‑click 36. Clear temporary TOTAL files from the column on the right.

When you receive the message that states TOTAL temporary files cleared, click OK, and close the Tech Support Assistant.
---
Configure your security software
Left unconfigured, security software can be overly intrusive and slow down your computer. After all, they're intended to monitor every directory and examine each and every interaction that takes place on your computer. The exact process for configuring your security software depends on which one you use. Click here to view a complete list of program directories and executables to exclude in your security software to ensure optimal performance with our software.
---
Run Disk Cleanup
Disk Cleanup is a Windows utility that removes the files it no longer needs. Since these files accumulate over time, slowness and errors are likely to occur if you don't regularly clean your hard drive. To run Disk Cleanup:
Press Windows Key + R to open the Run dialog.

In the Open: field, type (or copy and paste) cleanmgr and click OK. Windows locates the files ready for clean up via some quick calculations.

When the Disk Cleanup window loads, check the box next to Temporary Files if it isn't checked automatically.

Windows detects and automatically checks the boxes next to items it has determined can be safely deleted. If you're unfamiliar with these items, or if you're not sure what should be deleted, we recommend contacting a local technician.

If you regularly use Titan Drive or your XSite, it is a good idea to check the Temporary Internet Files box to clean out Internet Explorer's file cache. This helps speed up the performance of those applications on your computer as well.
Once you're selected the items you want to delete, click OK. Then, click Yes to confirm you want to clean up these files.
That's it! Windows takes a few moments to empty your Temporary Files and any other selected items, freeing up space and reducing clutter. When it's finished, the window and progress bar will disappear.
---
Scan for spyware
Spyware is a constant threat in the world of computing. Even something as simple as browsing the internet can expose your PC to spyware. A PC infected with spyware experiences a number of side effects, including connectivity issues and delays in accessing files on your hard drive which causes your software to run slower and/or become prone to errors and crashes.
While we don't officially recommend any specific security software or anti‑malware, many security software applications have built‑in antispyware utilities. In addition, there are a number of commonly used antispyware scanning tools available for free on the internet, such as Norton Power Eraser and MalwareBytes.
No matter what security options you select, we always recommend consulting a local tech to determine the best security options for your system.
---
Check your total RAM Usage
Random Access Memory, or RAM, is the physical hardware inside your PC that temporarily stores data. It's the computer's "working" memory. The larger the available amount of RAM, the better a PC will function.
Click

here

for more information about our minimum system requirements.
To determine if you're running low on available RAM, try the following:
Press Ctrl+Shift+Esc to open the Windows Task Manager.
If necessary, click More Details to expand the Task Manager window to view additional details.

The Memory column shows you the percentage total of memory being used. Click the Memory column header to organize the list of programs by those using the most memory.
If you determine that you're running low on RAM, consider the following options to resolve the situation:
Close unnecessary applications. Examine what programs you are running and close anything that isn't needed for you to do your work, such as unused internet browser windows, music players, or voice chat applications. These typically require a substantial amount of resources and aren't integral to your workflow.
Manually end processes. Identify processes using a lion's share of your RAM and stop them. This is done by selecting the process in the list of processes and clicking End task. We strongly suggest leaving this step to a local tech as ending some processes can have detrimental effects on your PC and on the performance of our software.
Restart your PC. Restart your PC to free up RAM and end unnecessary processes. Continue to the next section for instructions on restarting your computer.
Add more RAM. If you're consistently running low on RAM, consider adding more RAM to your computer. With additional RAM, your PC is able to run more programs simultaneously.
---
Restart your PC
It's a good idea to completely restart your PC once a day. But, you want to be sure that you're properly rebooting your PC and not just leaving it in Standby mode.
To restart your computer, open the Windows Start menu ( ), click the Power icon ( ), and select Restart to reboot your PC.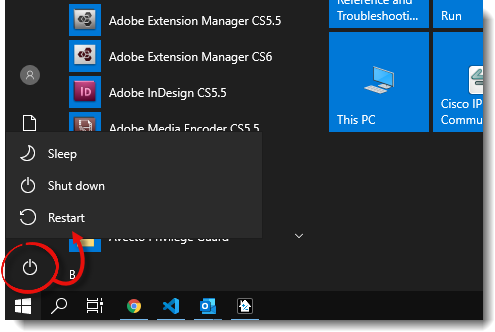 If you're on Windows 7, open the Windows Start menu, click the arrow next to the Shut down button, and select Restart.
---
Increase hard drive space
Limited drive space on a computer's hard drive is another cause of poor performance that every user eventually faces. With each new report you create in TOTAL, along with anything else you download or save outside of TOTAL, you're slowly adding more data to your hard drive. After an extended period of time, this can begin to cause performance issues. Here are a couple of ways to address it:
Change where TOTAL stores your data. While TOTAL is usually installed on the primary drive on your computer, you are free to change where it stores that data. Changing the drive where TOTAL stores its data can free up a substantial amount of space on your primary drive. For more information on changing the location where TOTAL stores your data, Click here.
Increase the size of your hard drive. In some cases, your current hard drive may simply be too small and a larger hard drive is needed. Adding a secondary drive and changing where TOTAL stores your data is an excellent way to increase both the performance and longevity of your current computer, while requiring only a minimal amount of effort. Click here for our recommended specifications for storage and memory.
---
Additional performance tips
Here are a few additional recommendations to improve the performance of your system and your a la mode software.
Reboot your modem and router.

If your network is slow, rebooting your router and modem can help. If you're unsure how to do this, contact your system administrator or internet service provider for instructions.

Check your CPU usage.

If an application is consistently hogging your CPU's processing power, you may need to disable or remove it. Checking your CPU usage is similar to checking your RAM usage above but you'll be looking at the CPU column and the percentage total of CPU in use.

Disable unnecessary startup items.

As you install new apps and extensions, new processes are added to your PC startup menu that cause delays when you turn on your PC as well as while you're working. Disabling some of these help speed up your PC. However, your startup also manages processes that are integral for your PC to function properly, so we always recommend contacting a local tech before modifying your startup items.