The Sketching Settings section of TOTAL's Configuration settings allows you to select your default sketcher, as well as manage any TOTAL Sketcher Pro licenses purchased through the TOTAL Store.  Once you purchase a sketch license from one of the TOTAL Store's integrated merchants, quickly and easily enable TOTAL's integration with that software via the sketch configuration options.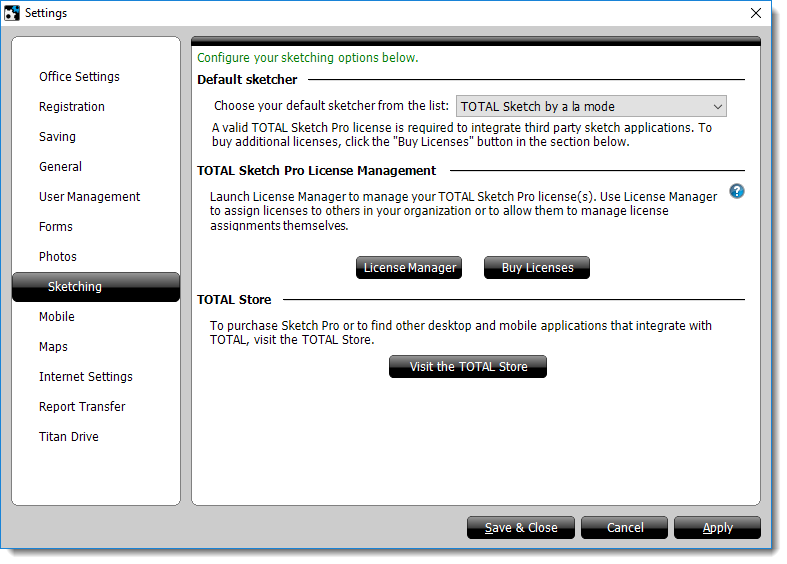 To enable TOTAL's integration with a merchant from the TOTAL store:
From the Sketching settings in TOTAL's Configuration Settings, choose the sketch vendor from the Default sketcher drop‑down menu.  If you have not yet purchased a TOTAL Sketch Pro license, click Visit the TOTAL Store at the bottom of your Sketching Settings.

TOTAL must be installed prior to installing and registering Apex for sketch integration to work properly.  If Apex was installed before TOTAL and isn't listed as an available sketcher,

click here

for instructions on correcting the issue.

Once you have selected your sketcher, click License Manager to verify you have validated your TOTAL Sketch Pro license.
If your Sketch Pro license hasn't been validated, you're prompted to log in with your a la mode username and password.  Enter your login information and click OK.

Once your license is validated, the TOTAL Sketch Pro License Manager is displayed.  Verify that a license has been assigned to you.  If a license has not been assigned to you, check the License Assigned box beside your name.

If you do not have assignment rights, contact the administrator or another user with assignment rights to assign a license to you.  Assignment Rights are indicated by the checkboxes in the column on the far right.

Click Save to save your changes and return to the Sketching Settings.  Then, click Save & Close in the Settings window to commit the changes and return to TOTAL.
Currently, we have three partners working on sketch integration solutions with TOTAL.
Apex Sketch v5 Standard
Rapid Sketch
Phoenix Sketch