When TOTAL Connect connects to your client's portal and downloads an order you've accepted, click Update Client to log in directly to their portal where you can update the status of the order and communicate from there.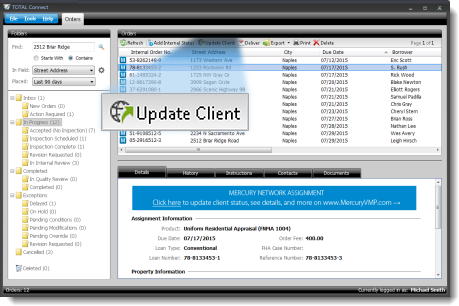 You'll also see extremely straightforward instructions at the top of the Order Details for any orders synchronized from your client's portal.

Before getting started, make sure you've verified and saved your Mercury Network credentials using TOTAL Connect's Login Manager.  Then, follow the instructions below to update the order status with your client:
Open TOTAL Connect and select your order.
Click Update Client to log in to Vendors.MercuryVMP.com and view the order details for that order.

From the order details for that order, click Set Order Status in the toolbar at the top and select the status from the drop-down menu.

For more information about setting order statuses from your Mercury Network account,

click here

.

In the Set Order Status window that appears, adjust any additional options as needed and enter any information that you want to send to your client in the Notes field (if applicable).
When you're finished, click OK to update the status.
Updating statuses and communicating with clients directly in their portal ensures that you're always sure you're following their requirements.  Plus, this makes it possible for us to open the platform to integrate with other client portals in the future (in addition to Mercury Network).  Several third-party vendors have already approached us about integrating, and once they're on board, you won't have to keep up with so many logins, passwords, and places to deliver.  Ultimately, it makes tracking, communicating, and delivery easier for you.  This also helps us because it lessens our burden to keep our systems in sync with your AMC's and client's platforms.  With so much oversight, your clients change their rules and processes constantly.  We're drastically reducing the chance of issues arising as you work with them.