Rather than scrolling through countless files, and clicking back and and forth between pages to find the file(s) you're looking for, use the search bar and filters in the Orders view to quickly narrow down the list of files displayed to a specific client, appraiser, or period of time — such as the last 30 days, the current year, a previous year, or search all time to search every order that has ever been entered. To search for an order
Log in to www.TitanAppraisal.com and go to the Orders tab on the upper right.
Select the field you want to use for your search from the Fields drop‑down menu. Options include:

Internal Order #
Appraiser
Tracking #
Subject Street
Subject City
Subject Zip
Borrower
Loan Number
Other Ref #

Place your cursor in the search bar and enter your search criteria. Then, press Enter or click the search icon

 (  ) 

in the search bar to perform the search. Any orders that contain your search criteria are displayed on the right.
Once the search is complete, use filters to narrow or expand your search: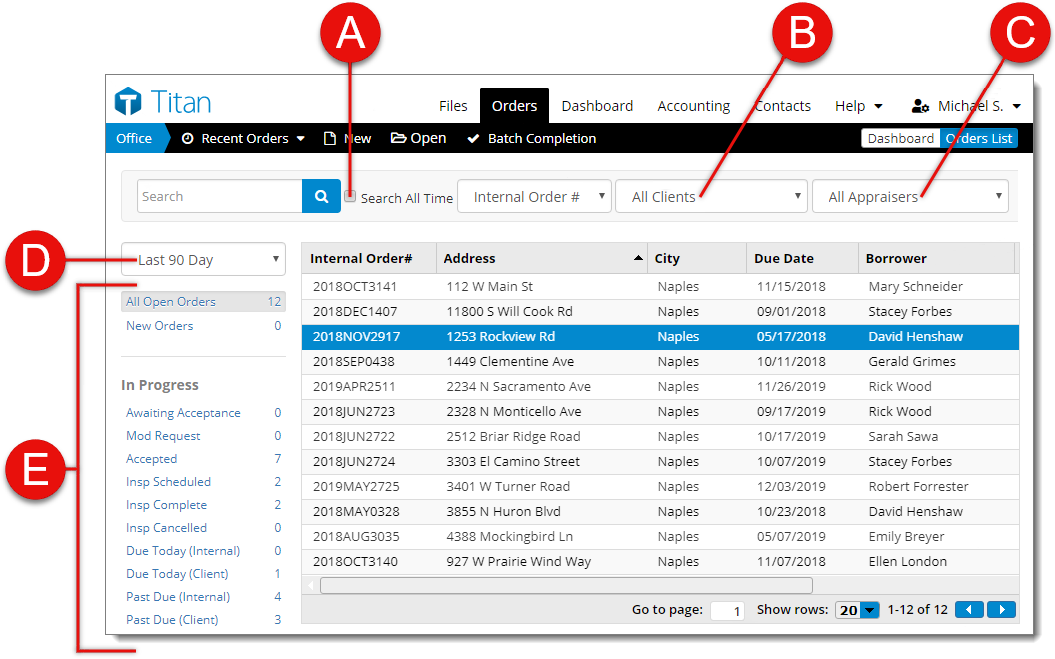 Check the box next to Search All Time and click the search icon

 (  ) 

again to perform the same search for all orders that have ever been entered.
To limit the orders to just those received from a particular client, select that client from the drop‑down menu.
Select an appraiser from the drop‑down menu to view the orders assigned to that appraiser.
By default, Titan Office shows you the last 90 days worth of orders. Use the date range drop‑down menu to display the last 30 days, 60 days, 90 days, 12 months, a specific year, or select All Time to display every order that has ever been entered.
Filter orders based on their internal status by clicking any of the internal status filters on the left.