Getting started with Mileage Estimator

This document outlines the features and functions of Mileage Estimator.

Document 8250 | Last updated: 03/14/2018 RR2
Mileage Estimator is an excellent way to keep track of your travel costs, whether it's for a simple expense report or a tax deduction estimate. Take a look at the overview below to get started, and if you have any specific questions, click here to read our extensive FAQ.
---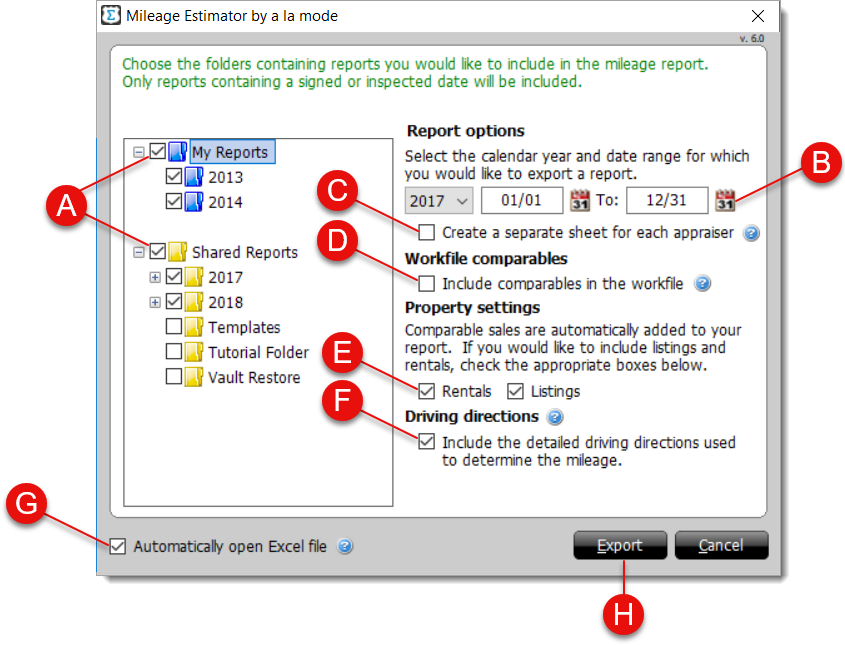 A. Choose your source files

Mileage Estimator only looks at your My Reports and Shared Reports folders in TOTAL. If you have report files in folders other than these, and you want to include them in your mileage report, first move them to one of these two directories.

B. Choose your date range

Use the drop‑down menu and calendar icons ( ) to set the date range for your mileage report.

C. Create a separate sheet for each appraiser

Check this box to include a separate Excel sheet for each appraiser that has signed or inspected a report, as well as a combined report for all appraisers in your office.

D. Workfile comparables

Check this box to include any unused comparables in your report's workfile.

E. Property settings (rentals/listings)

Check this box to include rentals and/or listings as well as comparable sales.

F. Driving directions

Check this box to export a folder containing the driving directions used to calculate your mileage.

G. Automatically open Excel file

Check this box to open your mileage report automatically when the export process completes.

H. Export

Click Export to generate your mileage report. Choose the Spreadsheet tab at the top of this guide to view a sample report.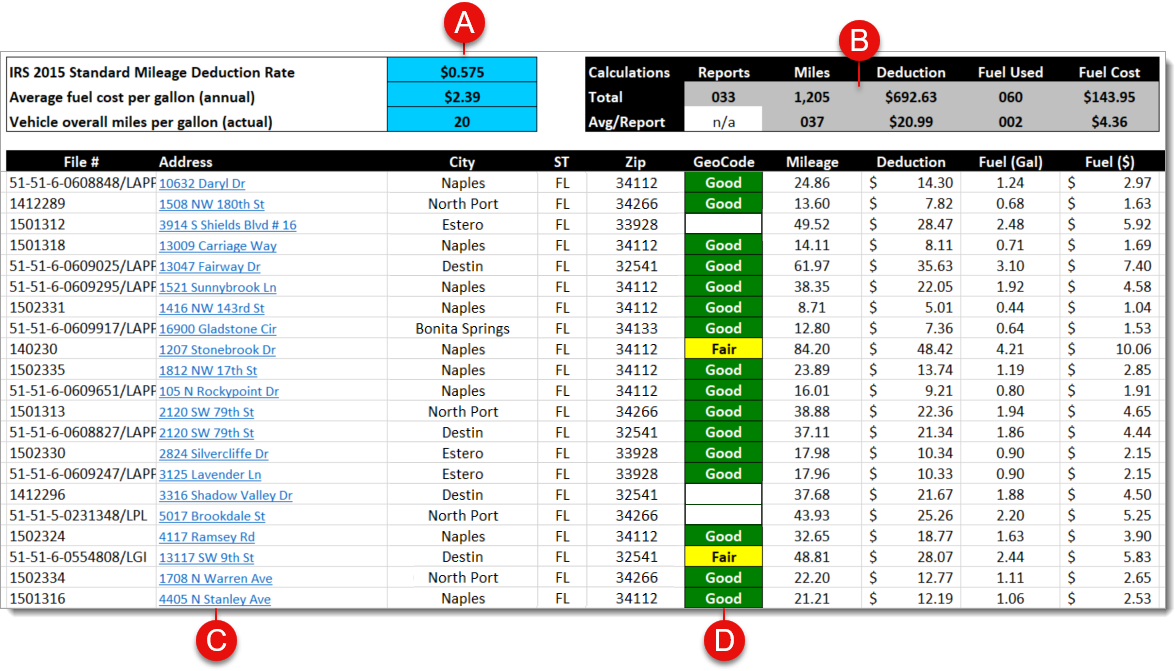 Using your mileage report
Fill in the blue cells (A) with your deduction rates, cost per gallon, and miles per gallon. The gray cells to the right (B) automatically calculate based on your input.
Click on any street address (C) for driving direction details.
The GeoCode column (D) indicates the confidence level for mapping each address. For report files with no map, this cell is blank.
If your mileage seems off, double‑check the starting address in your Office Settings. Click here for instructions.