Do More Business Using TOTAL Connect Pro Plugins

This document explains how to get started with many of these national companies by signing up to be an approved appraiser on their panels.

Document 5059 | Last updated: 03/15/2018 RR2
If you've purchased a TOTAL Connect Pro Contract, you have access to the delivery plugins of many of the nation's leading banks and AMCs. These plugins were previously known as "XSite Order Manager Plugins." They enable you to expand your client base by delivering reports in a format compatible with the systems of many national companies. In a typical 12-month period, nearly 1,000,000 appraisal orders are delivered through TOTAL Connect Pro plugins!
Here is the list of current TOTAL Connect Pro partners, and the list grows all the time. So, take advantage of your TOTAL Connect Pro contract and check back frequently to learn about new potential clients nationwide.
For more information on Report Delivery from WinTOTAL Aurora, click here
For more information on Report Delivery from TOTAL, click here
For more information on TOTAL Connect, click here
---
Make sure you're listed on the XSites Network Directory
Each week, thousands of XSites receive web traffic as a result of being found on our XSites Network at www.xsitesnetwork.com. In order to be listed on the network, there are a few things you'll need to have configured in your XSite:
Be sure online ordering is enabled in Step 4 of the XSites Wizard so you can add the online order form to your website.
Register your free XSite domain if you haven't already.
Have your counties set up in the "Coverage" option under XSites Network in the Business Management module so people can find you via counties other than your "home" county.
Enhance your listing by marking the types of jobs you do such as FHA, reverse mortgages, etc.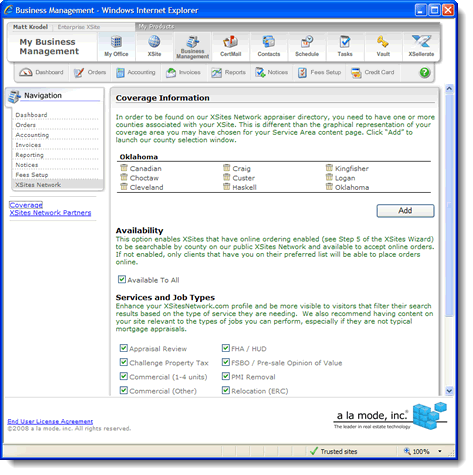 XSites Network and Mercury

The XSites Network and Mercury Network are two separate systems, each with their own purpose and audience.

The XSites Network is a directory of all XSite customers and is great for marketing to non-lender clients. Consumers, Realtors, legal professionals (and even some lenders or AMCs) use the XSites Network to find individual appraiser's sites and decide on the best one for their needs.
Mercury Network is for lenders and AMCs needing to maintain compliance with appraiser independence regulations. Learn more at mercuryvmp.com.
---
Apply to be on the VA fee panel
Your Appraiser XSite has a tool that helps you submit your application to be on the VA's panel. To apply to be on the VA fee panel:
Log into your XSite and click Business Management at the top of the screen.
Click XSite Network in the Navigation panel on the left.
Click the XSite Network Partners link that appears below the Navigation panel.
Scroll down to the VA section and click the Submit VA Application link below the VA seal.
Then just fill out the application and follow the on screen instructions to submit it for approval.
Your application is stored on your XSite, and you can see it again by following steps 1 through 4 above.
According to the VA website, requirements to become a VA appraiser include the following:
Five years experience in appraising residential properties. (36 CFR 4339)
The applicant must possess a state license or certification.
Must furnish reference letters including letters of reference from other appraisers.
Must provide a satisfactory demonstration appraisal on the Uniform Residential Appraisal Report form and include a certification that no assistance was received in completing the report. VA will make the property assignment.
Must have good character (no indication of any cause for embarrassment or adverse publicity for VA).
Cannot be currently employed by the Federal Government or a quasi governmental agency (such as Fannie Mae, Freddie Mac, Postal Service, etc)
May be a local or state government employee if no conflict of interest (or appearance of a conflict of interest) with VA assignments will result.
There may be no conflict of interest between the applicant's employment and performance as a fee appraiser with VA. (36 CFR 4340)
VA offices will screen applicant's credit for delinquent federal debts. And finally, a fee panel vacancy must exist in the area in which the applicant wishes to work.