Fannie Mae and Freddie Mac COVID-19 temporary appraisal flexibilities explained

This document answers questions, provides instructions, and explains the requirements for the Map Reference field under the Fannie Mae and Freddie Mac COVID-19 temporary appraisal flexibilities.

Document 1024 | Last updated: 04/14/2020 MJY
Using the Map Reference field
When completing appraisal reports under the Fannie Mae and Freddie Mac COVID‑19 temporary appraisal flexibilities, there are specific instructions from Fannie Mae and Freddie Mac for using the Map Reference field.
The Map Reference field in the appraisal report may only contain the word Desktop or Exterior and it should reflect the appraisal type that was agreed to when the assignment and the minimum scope of work required for the assignment was accepted.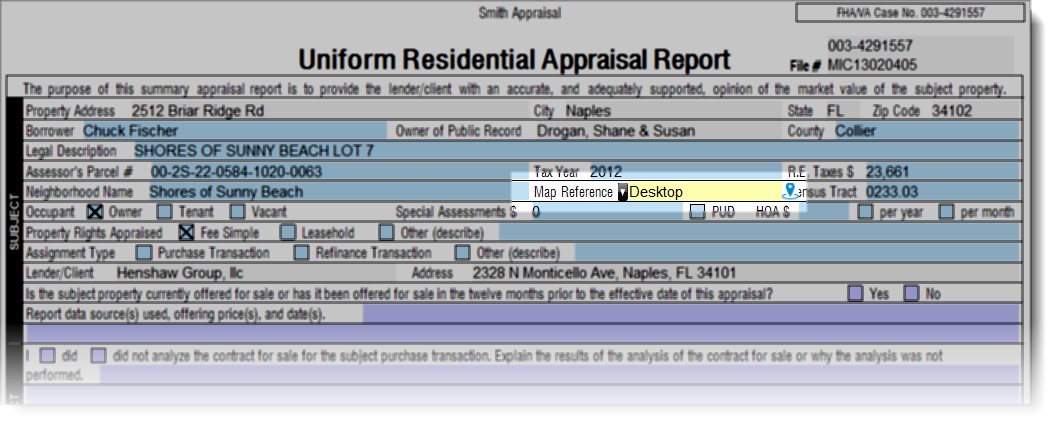 The appraiser is responsible for determining the adequate scope of work for any assignment and may choose to expand the scope of work beyond the minimum requirements. The appraiser must include either Desktop or Exterior in the Map Reference field any time a traditional appraisal form is used to complete a desktop or exterior appraisal using the COVID‑19 temporary flexibilities. No other words, characters, or phrases may be used or included.
Below is a list of common forms and the acceptable option(s) for what can be entered in the Map Reference field:
The 2055, 1075/466, and 2095 forms can only contain the word Exterior.
The 1004/70, 1073/465, and 2090 forms can only contain the word Desktop.
The 1025/72 and 1004C/70B forms can contain either Exterior or Desktop depending on the scope of work.

Form 1004/70 with the indication Exterior is NOT an acceptable option for an appraisal report for a loan delivered to Fannie Mae or Freddie Mac. FHA rules do allow for either Exterior or Desktop.
---
COVID‑19 prefilled addenda added for convenience
FHFA guidance says to add specific text to a report, if required by the client. Many of our customers have addressed this by creating a multi‑line QuickList entry in TOTAL, so that it can quickly be added to a multi‑page addenda. We've just added a different way to get that text into your report by offering these prefilled addenda in the Contents PowerView.
To find them, click Contents in the toolbar on the upper left and search for COVID in the Look for field. Then, just double click the appropriate form to add it to your report.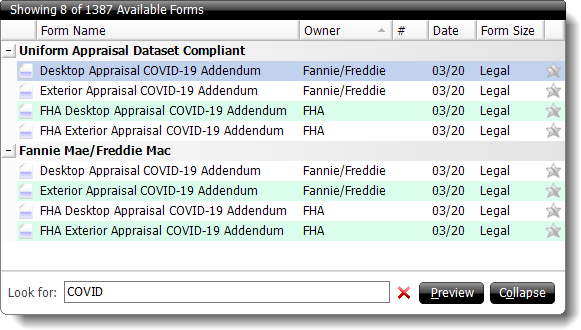 ---
Additional Resources
Fannie Mae resources:
Freddie Mac resources:
---