It's easiest to create files in TOTAL's Appraisal Desktop and then sync them to TOTAL for Mobile. Starting reports in this manner allows you to merge templates or start with an old file. However, you can also create new files from scratch at any time on your mobile device.
Be sure to view our

Workflow Examples

to get an idea of the entire TOTAL for Mobile process from start to finish.
The first time you open TOTAL for Mobile, basic instructions appear on‑screen to help you get started with your report.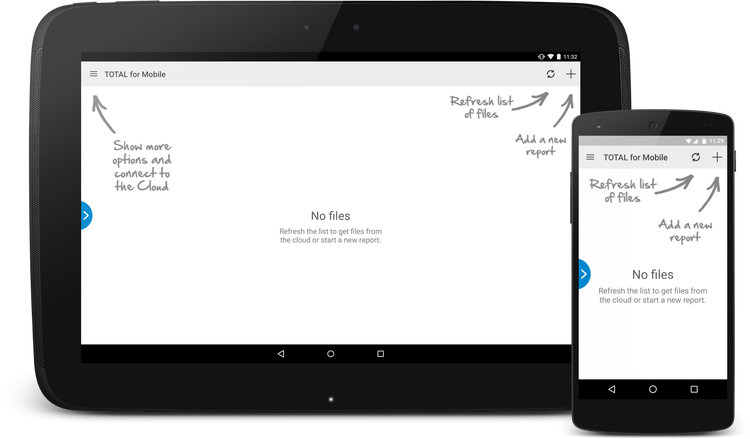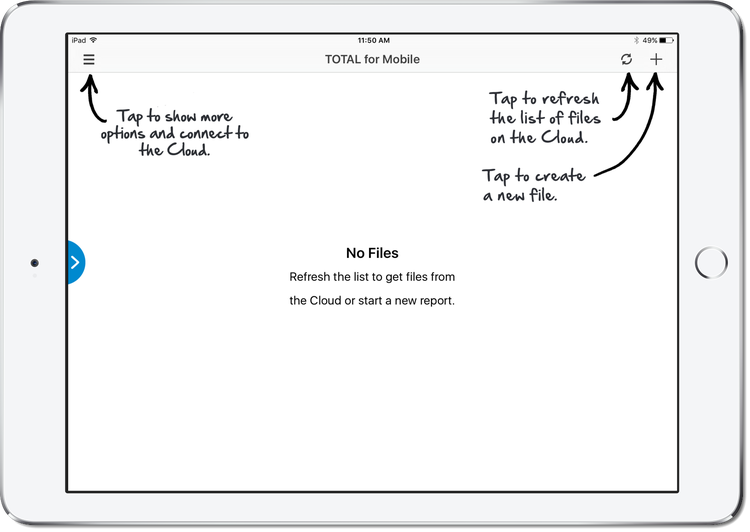 After you create or sync a report, these instructions are removed, and the reports that are currently available on your device and/or the reports that are available on the cloud are displayed.
To create a new file in TOTAL for Mobile:
Open TOTAL for Mobile. If you are in a report, close it and return to the file manager to start a new report.
Tap the plus sign (  ) on the upper right.

In the screen that appears, enter the property address and edit or enter a report description (if different from the property address). Then, choose how you want to create the report:

Choose Form to select a form layout from a drop‑down menu and open the report to a blank form based on your selection.
Choose Report to select an existing report on your device and copy the forms and data from that report to create your new report.

Tap Create on the upper right to open the new report.
To open an existing file in TOTAL for Mobile:
Open TOTAL for Mobile.
Locate the report in the File Manager and tap it to view additional options.
Press Open to load the report.