All of the orders you see in Mercury Network are available to you in TOTAL Connect.  Since TOTAL Connect uses your existing a la mode login, your orders are synced whenever you start the program or click Refresh.  This gives you immediate access to your orders in the cloud.
If TOTAL Connect isn't displaying the orders you expect to see, verify you're using the correct login credentials.  And, if you have an XSite, make sure you have the appropriate privileges marked in User Management. 

Click here

for instructions.
---
View orders by status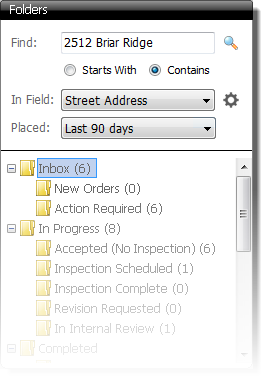 Use the Folders panel on the left side of TOTAL Connect to easily view all orders with a particular status.  Simply click the folder on the left that corresponds to the status you're looking for.  A list of results is displayed in the Orders panel on the right.
---
Find specific orders
If you're searching for a specific order, you have several options to find it: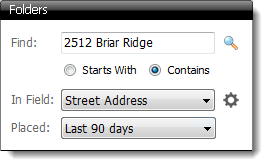 Use the Find box at the top of the Folders panel to enter a search term that's specific to the order you're looking for.
Choose whether the order should Start with or Contain the search term you've typed.
Use the In Field drop-down to choose which field(s) to search in.  Click the gear icon (  ) to the right of the drop-down to select more fields in which to search for your term.
Use the Placed drop-down to define a time frame in which to search for the order.
Now, click the magnifying glass icon ( 

 ) to the right of the Find field to start the search.  Your results are displayed in the Orders panel on the right.
---
Change column layout
In the Orders panel, the list of orders is displayed using various columns to show the information pertinent to a specific order.  You can customize the columns that are displayed by clicking Tools, Edit Column Layout.  Alternatively, you can use the shortcut CTRL+L to access the Edit Column Layout dialog.
You can sort your orders based on a particular column by clicking the column header.  Click the column header again to reverse the order in which they are listed.