The Preview function allows you to preview your photos with just a few taps of your stylus. First, tap the Camera icon, and navigate to the directory containing your pictures. Tap OK to return to the Photo PowerView.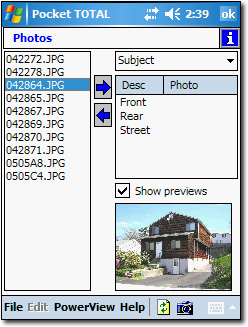 You can preview an image by highlighting the file name and tapping Show Preview.
To open the selected photo in the HTML Photo browser, tap the previewed image.
Once a preview is displayed in the web browser, you can tap on it to view it in full resolution.
When you are through with previewing the images, exit Pocket Explorer by clicking on the X in the top right corner to conserve resources.