In the earlier section titled Place images on your page, you saw how to place images on the page. But you might need more control over the location of the image than placing it "inline" with the text.
Here's how to get the precision you're looking for:
Tables
Tables give you a way to structure the layout of your page by creating columns and rows of varying sizes. For example, let's say you want to create a row of 3 images, each with a caption just beneath. Here's what you would do:
Log into your XSite and click the XSite button at the top to access the Wizard.

On the left, click on the My Content step of the Wizard.

On the right, click the name of the page where you intend to place the images. This will open the Content Editor.
Click the Table icon, then click and drag to highlight the first 2 rows and the first 3 columns as shown at the right. When you release the mouse, this dialog will close and you'll see the empty 2x3 table in the Content Editor as shown below.
By itself, that's confusing because it doesn't look like it would hold any images. But things will improve shortly.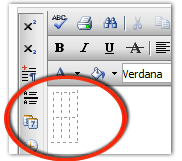 The next step assumes there are three images that have been resized and uploaded to your XSite. If you need help uploading images, see the previous section Placing images on your page. For this example, the images are 125 x 125px. If you're following along, click here to download the images, and then upload them to your XSite.
Here's what to do:
Place your cursor in the top-left cell of the table.
Click the Image Manager icon ( ) on the Content Editor's toolbar.
In the list of your images select the one that will be farthest left in the row, then click Insert.

Now you'll see that the left‑most column in the table has expanded to accommodate your image. If you've already sized the remaining images the way they should be, you can repeat the steps above to place images in the other two cells on the top row of the table. As you do, each cell will resize to to fit the image. Then, you can place text in the second row below each image, and end up with something like this in the Content Editor: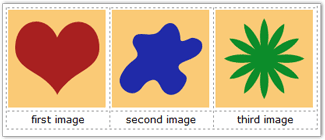 This is the result on the page:
| | | |
| --- | --- | --- |
| | | |
| first image | second image | third image |
If it turned out like you thought, remember to save click Save and Continue at the bottom of the Content Editor.
That's just a basic example of how you can use tables to arrange images and text on you page. Some people use tables exclusively because of the accuracy and flexibility in placing sections of text, videos, and other elements on the page. For more info on tables, see the user's guide here.