Resolve issues when creating a PDF

If you're having problems creating a PDF, this doc offers some common troubleshooting steps to help you fix the issue.

Document 6509 | Last updated: 08/15/2018 MJY
In rare instances, you may notice display issues in your addenda or forms when creating PDFs. A few common examples are:
Most issues boil down to three main causes:
Continue with the instructions below to troubleshoot the most common causes for these issues, or click one of the links above to jump to a specific section.
---
Margin settings
In your report, click File and select Print Setup.

In the Configure Printers window, if the scale is set to 95, change it to 100. If it's set to 100, change it to 95.

When you're finished, click OK and try printing again.
Continue troubleshooting with the next section if your display issue is not yet resolved.
---
No default printer selected or incorrect preferences
Follow the instructions below to choose a default printer and verify your printing preferences:
Close out of TOTAL completely. Then, press Windows key + R on your keyboard.

In the Open: field, type control printers and click OK.

In Devices and Printers, find your printer. If you don't see a green checkmark next to it, right-click the printer and choose Set as default printer.

If you receive a message stating Setting this printer as default means Windows will stop managing your default printer, simply click OK.

Right-click your default printer again and select Printing preferences.

In your printing preferences, look for Print Quality or Resolution. Make sure this is set to 600dpi or Normal, depending on your printer.
Now open TOTAL and try to print again. If you're still having trouble, proceed to the next section of this guide.
---
Zoom level and font settings
Your zoom settings can affect your printing results in TOTAL. You can check your zoom setting in the lower right corner. Make sure the zoom level is less than 154% and then try printing again.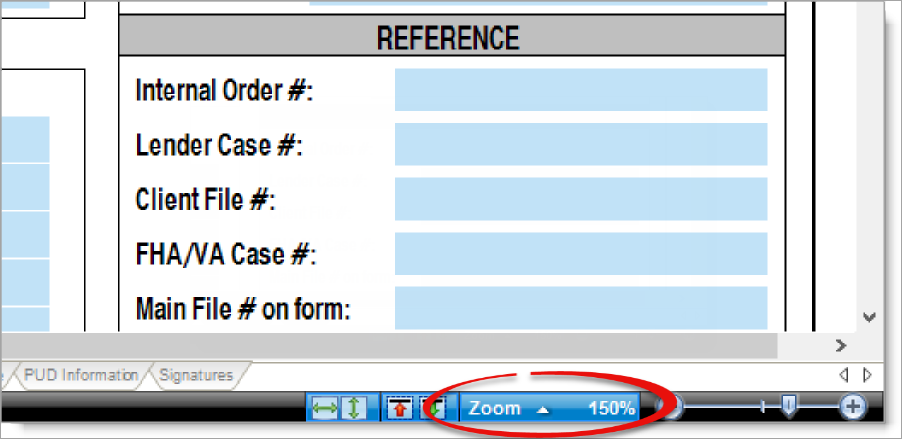 In some cases, setting the zoom higher than 153% distorts how the text is displayed such as text appearing bolded or larger. This is especially true when using resolutions higher than 1280x1024.
Try printing again. If this doesn't resolve the issue, check the font color:
With the report open, place your cursor in the addenda and press Ctrl + A to highlight the entire addenda.
Next, right-click the highlighted text and select Fonts.

In the window that appears, select a different color from the Color drop‑down and click OK.

Right-click the highlighted text again and select Font. Then, choose Black from the Color drop‑down menu and click OK.
Try printing again. If the issue persists, follow the instructions below to copy and paste the text from your addenda into Notepad, and then copy and paste it back into TOTAL.
Keep in mind that copying and pasting content into Notepad strips any custom formatting and special characters from your text.
Place your cursor in the addenda and press Ctrl + A to select all of the text. Then, press Ctrl + C to copy the selected text.
Next, open Notepad. To do this, press Windows key + R on your keyboard, type Notepad in the Open field, and click OK.

Press Ctrl + V to paste the copied text.
Press Ctrl + A to select the text in Notepad, then press Ctrl + C to copy it.
Return to TOTAL and press Ctrl + V to paste it back into your Addenda.
If none of the steps above fixed your issue, feel free to give us a call at 1-800-ALAMODE.