September 26, 2016 Update

This document details the complete list of updates and changes made to TOTAL released with the September 26, 2016 update.

Document 6352 | Last updated: 09/26/2016 MJY
A new update is ready. To download this update, and any prior updates, just click Help inside TOTAL, and then click Check for Updates.
This update is designed to help you quickly track and organize your reports.
Categorized reports help you visually manage assignments
We've added a categories option to help easily identify and group your reports. Pick a color category for a group of related reports — such as waiting on homeowners, pending inspection, completed, in progress, etc. — to quickly see where your reports are in the process. It's easier to see status and stay organized.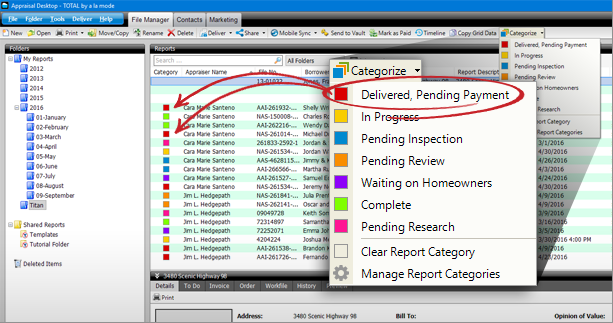 Of course we've added lots of other improvements with this update. For the complete list of improvements, take a look at the detailed release notes below. And, as always, thanks again for giving us your thoughts via the Feedback feature inside TOTAL.
The TOTAL Product Team
www.alamode.com/TOTAL
P.S. In case you missed our previous update messages, click here for the release note archive.
---
TOTAL — September 26, 2016 Update
Appraisal Desktop
Create or remove report categories to make organizing your reports even easier.
You can change the color for any report category from the color drop‑down menu.
You can search report categories in TOTAL's advanced search.
Forms Engine
Customized font formatting remains active when typing additional text when using QuickLists or a recent response.
Photos from cover pages and the photo addenda won't be included when the SmartMerge option to include property photos is unchecked.
Empty, individual contact fields on the order form won't be overwritten if other fields for that contact already contain data.
Merging reports no longer result in multiple, mutually‑exclusive checkboxes being checked.
The purchase transaction checkbox on page 1 is no longer automatically checked after entering a sales price in the sales comparison section of UAD major forms.
The removal of the appraiser and supervisor addresses, which sometimes happened after merging, was corrected.
In rare circumstances, calculations were being changed when rounding was applied. This has been corrected.
Appraisal Contents
The UAD Additional Appraiser Definitions Addendum is no longer listed under the "AppraisalPort Delivery (AI Ready™) category.
E&O
Opinions of Value less than $10,000 or greater than $10,000,000 now display a warning.
Forms
Graphical improvements were made to the 2090 and 2095 Cooperative major forms.
The title of page 7 in the RVS Exterior-Only [Small Residential Income] form was corrected.
USPAP Identification forms were updated to include mutual exclusivity to checkbox groups.
Corrected an issue preventing the user-defined value in the cost approach section of the 2055 UAD from being calculated as part of the indicated value by cost approach.
There's a new version of the Appraiser Independence Certification minor form containing bothappraiser and supervisor signature fields.
New HUD/FHA 203(k) Repair Addendum and MassHousing Appraisal Independence Certification forms have been added.
The 1025 Small Income [old] no longer converts the 'Approximate year built' field to age in years.
The default data for the 'Definition of Market Value' for the Statement of Limiting Conditions [Editable] and Statement of Limiting Conditions [Drive-by][Editable] forms have been updated.
General
Report category icons are now displayed in SmartMerge.
The city, state, and zip are no longer appended to the end of a street address after using the USPS address standardization tool.
Map Wizard
An issue preventing maps for being downloaded for reports containing one of a small set of forms has been corrected.