August 22, 2016 Update

This document details the complete list of updates and changes made to TOTAL released with the August 22, 2016 update.

Document 6351 | Last updated: 08/22/2016 MJY
A new update is ready. To download this update, and any prior updates, just click Help inside TOTAL, and then click Check for Updates.
This update is designed to help you save time writing reports and answer client questions quicker.
Keep your Photos PowerView open
The Photos PowerView is now undockable, so you can see all photos at once while working in the report. Manage your images on one screen and easily drag and drop them into your report on another screen. Can't remember what type of counters were in the kitchen? Keep the photo open in one window and your report open in another — no more toggling back and forth or relying on memory.
Line numbering makes answering client questions easier
Do you get frustrated when a client asks a question that has already been addressed in your Addenda? With the new line numbering feature, you'll be able to help quickly identify where it's located. Simply tell your client, "see line XX in the addenda." Line numbers can be saved to a PDF or printed — making communication with your clients more concise.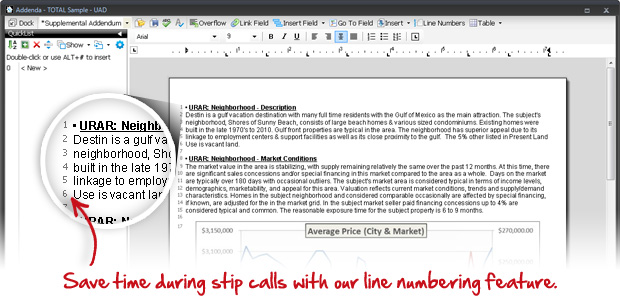 Of course we've also added a host of fixes with this update. Most notably:
Signature placement remains after multiple edits
Address stays consistent in both the form and map balloon when fields are locked
You can now upload to TOTAL for Mobile from the Dashboard
Features have also been added based on your feedback, including:
Add AutoCorrect entries from spell check or by right‑clicking a highlighted word
The SmartAddress icon now shows the number of times a property has been used in the past
Create an XML version of the 1004D Minor form without a major form
For the complete list of improvements, take a look at the detailed release notes below. And, as always, thanks again for giving us your thoughts via the Feedback feature inside TOTAL.
The TOTAL Product Team
www.alamode.com/TOTAL
P.S. In case you missed our previous update messages, click here for the release note archive.
---
TOTAL — August 22, 2016 Update
Addenda PowerView
Toggle addenda line numbers on or off to easily reference a particular line or paragraph when speaking with clients
Create a PDF or print a hard copy of the report with line numbers (Note: ENV and XML formats do not support this feature
Fields inserted into the addenda from both the Assignment and Forms PowerViews now automatically update when value changes
Photos PowerView
Undock Photos PowerView to work with photo pages alongside your report on multiple monitors
Delivery
XML files can now be saved to your computer from the 1004D minor form when no major form is present in the report or if the major form is excluded when printing
TOTAL for Mobile Sync
Export the WorkFile to mobile reports when uploading a report to TOTAL for Mobile
Corrected issue which prevented TOTAL for Mobile uploads from the Dashboard
AutoCorrect
AutoCorrect entries can now be added from within the spell check dialog
Create AutoCorrect entries by right‑clicking on a highlighted word in a report
Smart Address
SmartAddress icon in the Forms PowerView dynamically displays the number of property versions found in the Comps Database
General
A simple install and configuration of Vault will be run if Vault is not installed or configured on the machine
TOTAL will now provide a notification when your a la mode support contract is due to expire
Issue was corrected with Automatic File Numbering which could prevent new reports from being started when a sequence value was not supplied
Signature placement can be edited when using large signature images
Map Wizard
Locked address fields used to override USPS standardization no longer revert to the standardized address in the map balloons when added to a report
Forms
Wells Fargo 1025 Exterior — RVS24EXT has been added
Added VA Minimum Property Requirements (MPR) Required Repairs — VAMPREPNC
Net and gross adjustments now populate on the ClearCapital Desktop Appraisal form when selected in report options — CCDESK