August 2, 2016 Update

This document details the complete list of updates and changes made to TOTAL released with the August 02, 2016 update.

Document 6350 | Last updated: 08/02/2016 MJY
A new update is ready. To download this update, and any prior updates, just click Help (with TOTAL open), and the click Check for Updates.
It includes highly-requested improvements to QuickLists and added a new AutoCorrect feature, which will help you type your reports faster and reduce embarrassing typos.
Expanded QuickLists library cuts typing time dramatically
Managing your QuickLists common responses is easier than ever with a new QuickLists toolbar. In just one click, add, delete, or reorder your QuickLists. You can also clone and edit a la mode stock text as you see fit, which saves time up front. Plus, you get complete control of which QuickLists are available using the drop‑down on the Show menu. From there, you'll be able to:
See all of your QuickLists items, even ones from other fields.
See all QuickLists items from every user in your office and from every field.
(Default) See the QuickLists you've created specifically for that field.
See every user's QuickLists specifically for that field.
But the Show menu is just the start. Learn more here about new QuickLists features.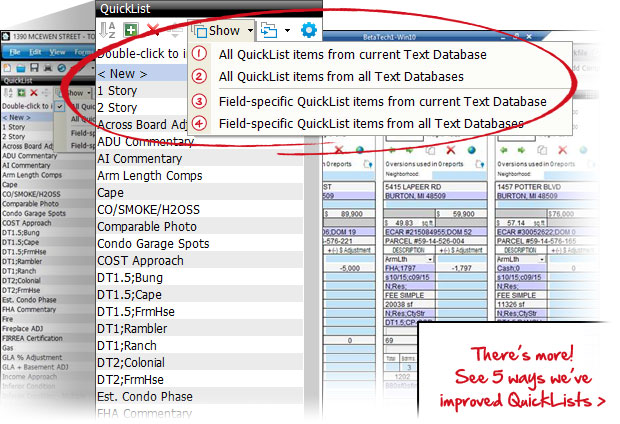 Avoid embarrassing spelling mistakes and create sentence shortcuts
With our new AutoCorrect feature, you can avoid typos to make sure your reports are accurate and professional every time. Words that you often misspell can even be added to AutoCorrect to be changed instantly. Along with standard spellcheck suggestions, you can create text shortcuts (up to 255 characters) like using "prk" for "the park is located".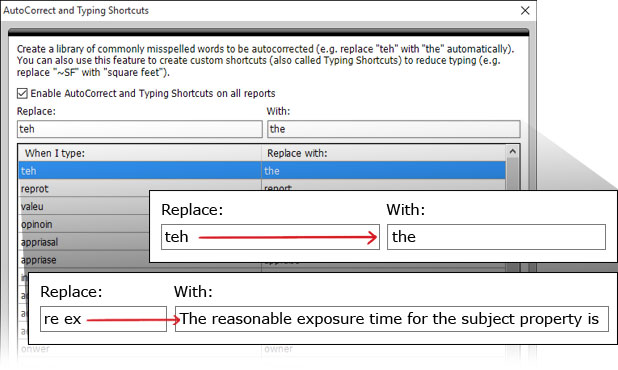 Of course we've also added a host of fixes and new features with this update. Most notably:
Net and gross adjustment fields are now excluded from global rounding changes.
The zoom feature in maps is more predictable and you can use it in more ways.
Get instant access to your TOTAL for Mobile photos in TOTAL's QuickPix Database.
Quicker load times to move you through your report faster than ever.
For the complete list of improvements, take a look at the detailed release notes below. And, as always, thanks again for giving us your thoughts via the Feedback feature inside TOTAL. We read them every day and we can track them much better than standard e‑mails.
The TOTAL Product Team
www.alamode.com/TOTAL
P.S. In case you missed our previous update messages, click here for the release note archive.
---
TOTAL — August 2, 2016 Update
QuickLists
Managing your QuickLists is easier than ever with the new QuickLists toolbar.

Access existing QuickLists management tools such as add, delete, and reorder from the toolbar.
A new Show menu gives you control over which QuickLists items are available to use at any time.
Forms Engine
Access to AutoCorrect settings right from the toolbar.
Commas are no longer added to the site field when the change case tool is used.
Net and gross adjustment fields are now excluded from global rounding changes.
No more changes to locked address fields when using the map wizard and USPS standardization.
Field color now updates after using remove locks from the forms menu.
Map Wizard
View a larger surrounding area with more zoom capabilities.
Extra commas have been removed in the Standardized USPS Address Information screen.
General
Spell check options in the tools menu have been updated across all PowerViews.
Addenda
Additional text is no longer included when linking a field into the Addenda.
TOTAL for Mobile Sync
Seamlessly download reports from the cloud without interruptions.
Photos are automatically added to TOTAL's QuickPix Database.
SmartAdjust
Instances of slow load times is a thing of the past.
Appraisal Desktop
Clearer instructions for moving Aurora attached directory reports to a TOTAL report folder.
Assignment PowerView
The Order Form/Invoices pane now consistently displays only the forms visible in the Assignment PowerView.
E&O PowerView
Insert a comment in the addenda regarding a specific E&O warning.
No more jumps when navigating between adjustment and non-adjustment fields.
Forms PowerView
Use the find and replace function while the addenda split screen is open.
Addenda PowerView
Minimal occurrences of unexpected delays while using the "replace all" button has been resolved.