February 4, 2014 Update

This document details the complete list of updates and changes made to TOTAL released with the February 04, 2014 update.

Document 6323 | Last updated: 02/15/2017 ACN
In this update, we've improved and streamlined the delivery and sharing menus. You'll also save time by accessing SmartBrowser and the "Save XML and PDF to your PC" feature directly from the delivery menu instead of going through the DataCourier plugin to do so.
The biggest change you'll see is a new delivery menu icon that better organizes your delivery options. You'll find your TOTAL Connect delivery options nested alongside "Upload to Client via SmartBrowser" and "Save as XML and PDF to your PC" (for UAD major forms).

You'll also see a new icon for the Share menu. The share options themselves won't change — just the menu icon, which is now more in line with what you're probably used to seeing when "sharing" via other applications.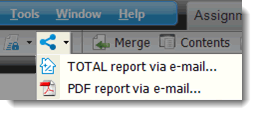 As always, thanks again for giving us your thoughts via the Feedback feature inside TOTAL. Several of these changes came directly from your feedback. We read them every day and we can track them much better than standard e‑mails. Please keep them coming and we'll keep making TOTAL better.
That's all for now, but expect another update very soon.
The TOTAL Product Team
www.alamode.com/TOTAL
P.S. In case you missed our previous update messages, click here for the release note archive.
---
General
We fixed an issue that caused TOTAL to lock up during the AutoRecover process on a computer with limited Internet connectivity.
Locked checkboxes will print correctly to PDF or to a printer.
Side‑by‑Side PowerView
We fixed an issue that could cause the Net Adjustment fields to have both + and - checked.
The "Convert Addresses to USPS Standards…" option under in the Tools menu will work correctly from the Side‑by‑Side PowerView.
MLS Text File Importer
Data for City, State, ZIP, and Data Sources will transfer throughout the report correctly after importing from a MLS text file.
TOTAL for Mobile sync
Data entered into the Garage fields in TOTAL for Mobile will import correctly when the report is downloaded into TOTAL.
Contacts
Corrupted contact information within the contacts database will no longer prevent the contacts database from loading.
Forms Engine
Entering the year built into the actual age field will calculate the actual age automatically on the GP 2-4 unit form.
Updated Forms
The "Actual Age" field in the "Description of the Improvements" section will no longer be center-justified in the GP Residential form.
New forms
Client Requirements [Phoenix no logo][Appraiser Sig.]
Client Requirements [Phoenix no logo][Supervisor Sig.]
Liquidation Appraisal Addendum [Phoenix no logo]
Liquidation Appraisal Addendum [Phoenix no logo][Linkable]