Disabling IE's Prompt about Trusted Sites

This document shows you how to eliminate Internet Explorer's prompts when you open a page that's in one of your browser's Trusted Sites.

Document 5994 | Last updated: 01/09/2017 MJY
By default, Internet Explorer prompts you about opening sites in your Trusted Sites list as a precautionary measure. While this can be beneficial for when unfamiliar sites find their way into the list, it can become more of a nuisance when you manually add familiar sites to your Trusted Sites list to permit them appropriate access to the Internet.
If you're receiving a Security Warning such as the one below when accessing your XSite, you may need to adjust Internet Explorer's Trusted Sites setting.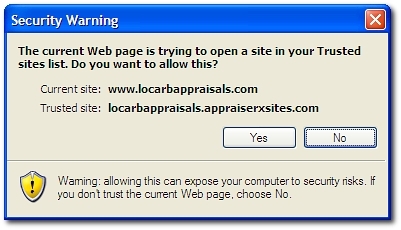 Following the steps in this document lowers the security settings in Internet Explorer. While your XSite from a la mode is safe to visit, there are other websites on the internet that could take advantage of the lower security settings.
With Internet Explorer open, click Tools, then Internet Options.
Now, click the Security tab, followed by the Trusted Sites icon.
Click Custom Level at the bottom of the window to access the advanced options for your Trusted Sites list.
Scroll down to Web sites in less privileged web content zones can navigate into this zone. By default, this option is set to Prompt ‑ change it to Enable.

Click OK at the bottom of the window, then click Yes when a warning prompts you about whether you want to change this option.
Finally, click OK on the Internet Options window to save your settings.
That's it! You will no longer be prompted to permit opening your XSite whenever you access it in the future.