Beware domain renewal scams

This document outlines how to spot a domain renewal scam.

Document 5906 | Last updated: 02/12/2021 MJY
Website owners everywhere, not just XSite owners, are apt to get unsolicited e‑mail — and on occasion, physical mail — urging them to pay a fee before their domain name expires. Of course, some domain‑related messages are legitimate. But how can you tell the difference?
If you have questions about an e‑mail you received, contact ALMDomains@CoreLogic.com or call us at 1‑800‑ALAMODE.
---
Legitimate messages
Messages from enom@alamode.com are legitimate. These messages won't ask for a fee. Usually they require you to click a link within the e‑mail to verify your contact information.
If you're using a domain that you purchased from a 3rd party domain name provider, it's best to respond to any e‑mails they send you.
Here's a visual example of a legitimate e‑mail: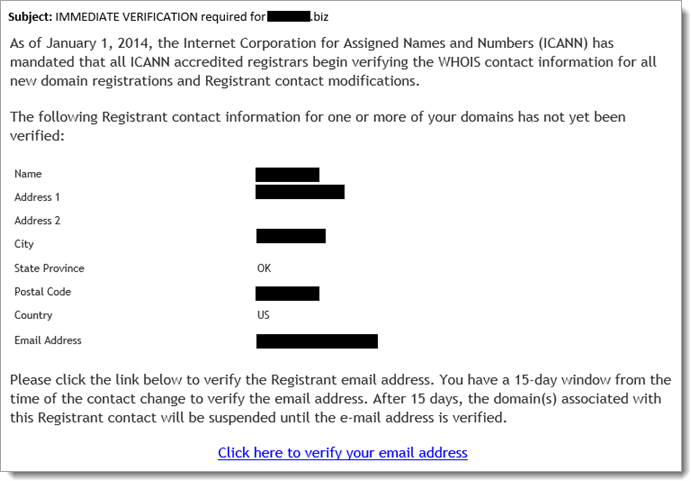 ICANN

requires eNom, our registrar, to send verification messages like the one above to all domains registered through them.
---
Possible scams
With respect to domains registered through your XSite, any messages that ask you to pay a fee to a third party should be ignored. We take care of your domain for you as part of your annual subscription.
Scam e‑mails may use verbiage like "cancellation" and "deadlines," and direct you to make a "secure online payment," or sign up for a paid service. You should handle links like this with care, and refrain from giving out personal or payment information.
Here's a visual example of a scam e‑mail: