Formatting Rules in QuickSource

This document explains how to create and adjust formatting rules in QuickSource.

Document 3303 | Last updated: 10/05/2021 MJY
QuickSource allows you to adjust formatting and create rules on a field‑by‑field basis, and even suggests creating rules for certain fields in certain scenarios.
For example, if you enter text in the Functional Utility, Heating/Cooling, or Energy Efficient Items fields, QuickSource suggests creating a rule for those changes. Click Save and View Formatting to review the rule and formatting options, or click Save to simply save the rule and return to the Data Discrepancy View.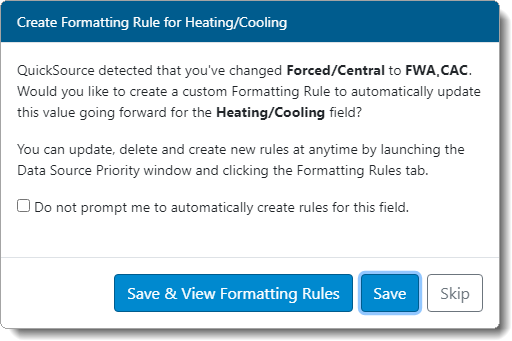 If you don't want to create a rule for the current field, click Skip on the lower right. If you don't want to create a rule, and you don't want to be prompted to create a formatting rule for this field in the future, check the Do not prompt me… checkbox, and click Skip.
Once you've saved the formatting rule, an icon (

) is displayed in fields where formatting rules have been applied.

You can edit an existing rule, adjust formatting options, or create a new rule for any field at any time by clicking the link in the Data Preference Settings column to the right of the field. Click here for step‑by‑step instructions.