How to import data into QuickSource using MLS Direct Integration

This document explains how to quickly and easily import data from your MLS into QuickSource using MLS Direct Integration.

Document 3010 | Last updated: 03/19/2021 MJY
It's a bit of a hassle to set up an MLS export template, create a CSV file, and then upload the file into QuickSource. To make this process easier, we've reached out to associations on the CoreLogic Matrix MLS platform to add a button directly within the MLS search results for appraiser‑member accounts.
When you select your MLS in Quicksource, a message is now displayed if your MLS has direct integration available.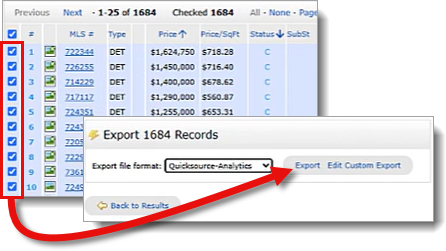 Follow the instructions below to use MLS Direct Integration to import property data into QuickSource:
Log in to your MLS, perform your search as you normally would, and select the results you want to send to QuickSource.
Click the a la mode button in the search results toolbar.

If you don't see an a la mode button, but QuickSource indicated that your MLS has direct integration available, contact your MLS to ensure your MLS account is properly denoted as an appraiser account.

In the screen that appears, enter your a la mode login and password and click Login. Once you're logged in, your information is saved so you won't have to enter it each time.

Make sure you enter the same login information you used to

link TOTAL with your a la mode account

. If you log in with a different account, you won't see the data you sent from your MLS when you return to QuickSource in TOTAL.

Next, enter a description to help you identify the set of properties you're exporting so that you can easily locate it in QuickSource. We recommend using the address or file number for the current assignment.
Click Export. When the export is complete, close the window, return to QuickSource in TOTAL, and click Import MLS Data (if necessary).
Select the export you named in step 4, and click Finish.
That's it! After you click finish, you're returned to the QuickSource Data Discrepancy View with the property data from your MLS export automatically populated.