To view your XSite at any time, type your domain name into the address bar of your browser and press Enter.
If you are currently logged into the Admin area of your XSite, hover over XSite in the toolbar at the top, then click My XSite in the bar below. This displays the "front end" or public portion of your XSite, which is exactly what your visitors see when they go to your website.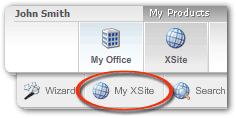 Your XSite can be viewed in almost any browser, but may appear slightly different depending on the version of the browser and the browser's technology.