The Organize Content step of the XSites Wizard is where you decide how links to the content on your site are organized. Simply drag and drop each page to organize them in the order in which you want them to appear on your site.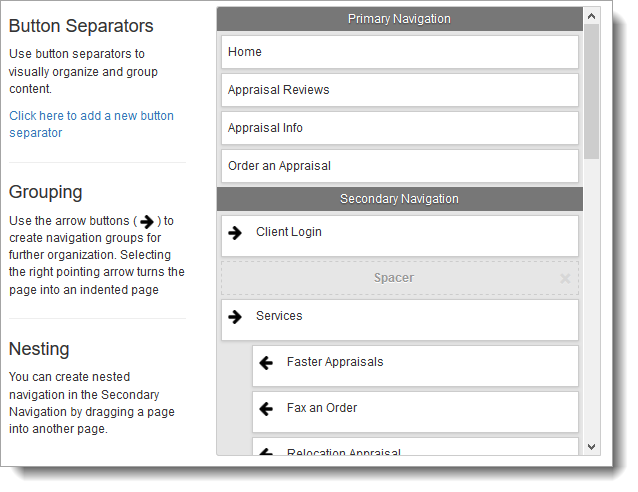 The Primary Navigation items should be your most important links — the ones you want people to see first. Mobile‑friendly themes allow you to include up to 4 buttons in the primary navigation, while other themes can have up to 6 primary navigation buttons
Your Secondary Navigation should have some organization regarding the content of the links. For example, group the links pertaining to Home Buyers, Sellers or other topics.
Use the button separator item to add space between buttons and segment items so they don't all run together
You can create groups within your Secondary Navigation by clicking the arrows to indent particular button names.
It's easy to create fly‑out menus within your secondary navigation bar by nesting content within another page. When you do this, the nested pages appear when a user moves their mouse over the main page. This is a great way to enhance your site by providing a lot of relevant information for your clients without cluttering your site with too many buttons. To nest content and create fly‑out menus, simply click and drag a page on top of another page in the Secondary Navigation area.