The My Theme step of the XSites Wizard controls the general "look" of your site, including the header image, layout, colors and more.
Themes are broken up into categories and sub‑categories. Scroll through the list on the left to select a primary category. The first 10 themes in that category are displayed in the bottom window. Click a sub‑category heading to narrow the selections. Click any of the thumbnail images to get a larger view of that theme.
Animated themes are denoted with the movie reel. These typically have a moving graphic in the header and rollover animation when your mouse goes over the links for your main content.
All the colors and graphics in your theme are customizable. (That's the next step in the wizard.)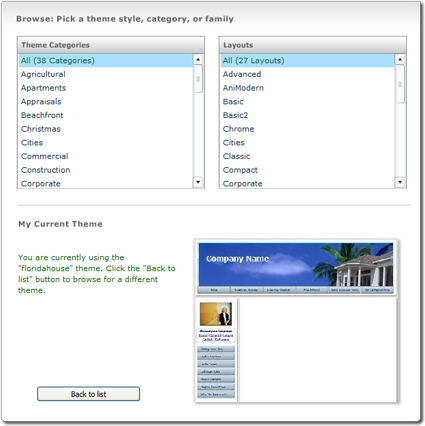 Once you've decided on a theme:
Click the image for the desired Theme.
Click the Choose this theme button to lock in your choice. If you choose a Mobile‑Friendly theme, click here for more information.

Click the Save button to lock in your selection, or click the Next button to save it and move to step 2 of the wizard.