The Cell properties dialog box allows you to adjust how each individual cell — or group of cells — will appear. Click in the cell you wish to modify, or click and drag to select multiple cells, then right click and choose the Set Cell Properties item from the pop up menu.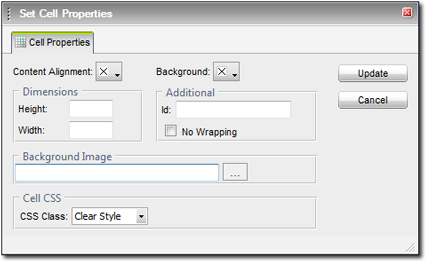 Content Alignment — From the drop down menu, select how you'd like the text in your cell to line up. You can select any combination of the top, middle, bottom, left or right.
Background color or image — Each cell can have its own background color. Just select the desired shade from the drop down menu. The Background Image option is not supported on XSites.
Dimensions — Set the desired Height and Width for this cell. You can enter the amount in Pixels or as a percentage of the total size of the table. To enter a percentage, just type the percent sign (%) after the amount (i.e. 25%).
No Wrapping — This turns text wrapping on or off. If this box is checked, text entered into a cell will cause the cell to grow, rather than wrapping to a new line.
ID & CSS Class — These options are used for advance table editing and are not supported on XSites.