TOTAL for Mobile is a la mode's revolutionary field data collection and sketching application for mobile devices. By combining an appraiser's entire field toolkit — including a notepad, GPS, phone, camera, computer, and Internet connection — TOTAL for Mobile eliminates the need for a clunky clipboard. Plus, your data is more accurate since it's entered right in the field — saving you from having to re‑key information.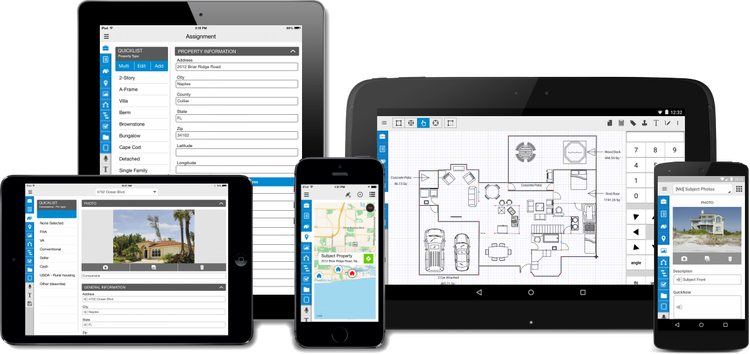 While TOTAL for Mobile is intuitive and easy to use, we provide this manual as a reference so you can see all the great features that save you time in the field with features such as:
On‑screen keyboard and QuickList‑based data entry
Draw sketches in the field
Capture voice notes
Take subject and comp photos
Synchronize with your desktop
And more!
If you're viewing this page on a mobile device, tap a button below to visit the Google Play store or Apple App store where you can install TOTAL for Mobile just like any other app.
TOTAL for Mobile is designed for Apple and Android mobile devices. Chrome OS, Kindle Fire HD, Microsoft Surface products, and desktop computers are incompatible.
After installing TOTAL for Mobile, simply tap the TOTAL icon on your home screen or in your app drawer to open TOTAL for Mobile.