New to TOTAL is the ability to undock PowerViews.  This is especially helpful in multi-monitor environments because you can undock certain PowerViews and move them to a separate monitor.  This provides you additional screen "real estate" for the main TOTAL window, while allowing quick and easy access to other frequently-used tools.  Keep everything on screen and within reach without having to toggle back and forth.
PowerViews that can be undocked into their own window are the Addenda PowerView, E&O PowerView, Workfile PowerView, and Notes PowerView.  The PowerViews that can be undocked are easily discernible because they are marked with an undock icon ( 

 ) .
To undock a PowerView:
Click the undock icon (  ).
Click and drag the header of the new window to the desired position.

To dock a PowerView back into TOTAL, simply click ( 

 ) , or close the window.  To dock all PowerViews back into your toolbar at once, click Window in your menu bar, and select Dock All in the drop‑down menu.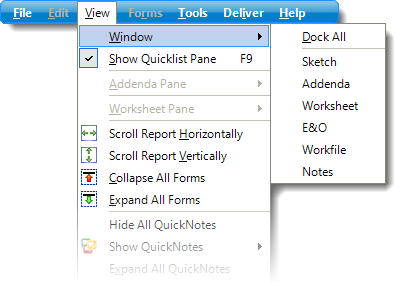 When you click the Dock icon, TOTAL returns to that PowerView in the main window.  Closing an undocked window by clicking the X on the upper right keeps the PowerView you're currently viewing open and simply closes the undocked window.