The Forms PowerView in TOTAL includes the Report Contents pane.  This pane allows you to see exactly which forms are in your report at all times, add new forms on the fly, and can be used to navigate to specific sections of your report.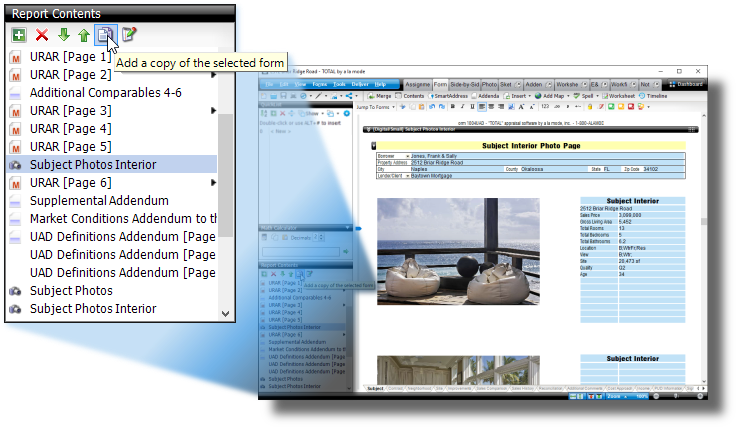 To add a form from the Report Contents pane, click Add (  )  and choose the form from the forms library.
To remove a form, select the form you want to delete, click Remove (  ), and click Yes to confirm.
Drag and drop forms in the Report Contents Pane, or highlight a form and click the green up and down arrows (  ) to rearrange the order of the forms in your report.
Highlight a form and click Add Copy (  ) to create a new, blank copy of the selected form.
To rename a form, select a form and click Rename (  )  at the top.
Hover over a multi‑section page to see a list of the individual sections of that page of the form. Multi‑section pages are indicated by a black arrow

 (  ) 

to the right of the form name.
To show or hide the Report Contents and QuickList Panes, press the F9 key on your keyboard.
To enlarge the Report Contents, hover your mouse directly above the black Report Contents header (your mouse cursor will turn into a black bar with two arrows pointing up and down, like this:    ), click the left mouse button, and move your mouse up or down to enlarge or shrink the panel.
Right-click a form in the Report Contents pane for additional options:

Rename

Quickly rename any form in your report.

Split Form/Reassemble Form

Split the major form in your report — this allows you to insert a page between pages in your major form, or move a page from your major form to another area of the report.  Once the form has been split, this option changes to Reassemble Form.  Choosing the reassemble form option reverts the changes made when the form was split and any forms nested within the form that was split are placed immediately after the last page of the reassembled form.

Add Copy of This Form

Creates a new, blank copy of any form in your report.  (Not available for major forms)

Remove

Quickly remove any form in your report.