The Calendar option in the Tools menu allows you to quickly and easily insert dates into your report.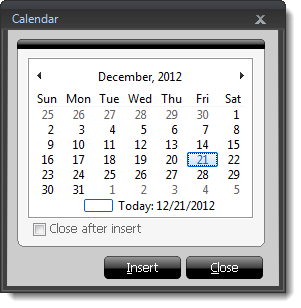 To insert a date:
Begin by going to Tools, then select Calendar from the drop‑down menu.
Next, place your cursor in the field where you would like to insert a date.
After you have placed your cursor, select the date on the calendar, and click Insert.  If you want the calendar to close automatically after inserting the date, check the box to Close after insert.
If you need to insert dates into additional fields, just scroll to the field, place your cursor, and repeat step 3.